NGOs Discuss Amendments for Prosecutor's Office
By Levan Khutsishvili
Wednesday, July 25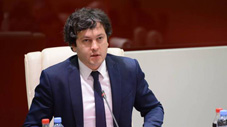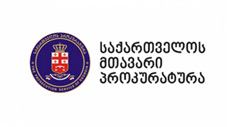 On July 24, public forum on Prosecutor's Reform Issues was held in Radisson Blue Iveria Hotel. The forum was organized by the Coalition for "Independent and Transparent Judiciary" and hosted by Irakli Kobakhidze, the Chief Prosecutor of Georgia - Shalva Tadumadze and other officials.
Main topic of the discussion was legislative amendments regarding the reform of the Prosecutor's Office. Constitutional amendments in 2017 changed the status of the Prosecutor's Office, which required legislative amendments to ensure the independence of the Prosecution Service. The parliament members, executive authorities and civil society organizations discussed the issues.
The reform includes a few issues actively discussed among civil society, for example who should be the member of Prosecutors Council. The government holds the position that besides the prosecutors, politicians should also be in council, although some of the NGOs are against politicians' involvement.
"The development of the Prosecution Service is responsible for proper development of the law enforcement system. It is very important that we have elected the new chief prosecutor who will become the first general prosecutor beginning November. Our constitutional reform touched upon the establishment of a new model of prosecution. There was a serious discussion in the Constitutional Commission. The main issue is the independence of the prosecution office from the executive branch. The independence of the Prosecutor's Office itself is good, but it is also accompanied by challenges and it is very important that legislation that will be developed based on this constitutional model should respond to this challenge. As for the Prosecutor Council, it is very important to form a correct model, especially when Prosecutor's Council is actually a constitutional body. Strategy for Producer Council staffing may be two: one where the prosecutors council is a kind of board of prosecutor's office and it contains the management of the Prosecutor's Office and the second, in my opinion, is the model where the constitutional authorities are maximally involved. This should be a different branch of the government and it can be formed based on the principle of parity, similar to constitutional court. Both models are possible, but I prefer the second model," said Irakli Kobakhidze.
The government strongly believes that they should be involved in the management of the council, but how it will guarantee the independence and transparency of the Prosecutors Office is still unclear. The organized forum is a platform where all interested parties, including representatives of parliament and other branches of government, lawyers, experts and international donor organizations are invited to discuss arrangement and functions of the Prosecutor Council, including appointment and dismissal of the General Prosecutor, and accountability of the Prosecutor's Office to the Parliament. The Coalition of 40 organizations presented recommendations based on the new Constitutional Framework and International Standards; however, the government is to make the final decision. Based on the position of Irakli Kobakhidze, the council will presumably involve government representatives.