Georgian Constitutional Court Says They Did Not Legalize Marijuana
By Tea Mariamidze
Monday, August 13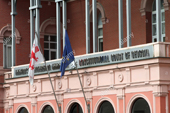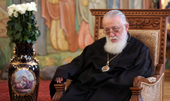 Georgia's Constitutional Court has released a statement saying they did not legalize marijuana, as reported by various media or religious organizations, but abolished the administrative punishment for its consumption only.
The court calls on the public to take more responsibility while assessing the activities of the court. The statement says some media, political and religious organizations dismantle the wrong information about the decision, including pressure on the judges over the issue.
"The court decision was assessed as the "legalization" of the drug, but it is the wrong interpretation of the court decision," the statement reads.
The court also noted in the decision reads the establishment of responsibility for the use of marijuana is by the Constitution in cases when the particular fact of consumption creates threats to third parties.
"For example, the court found the administrative punishment for marijuana use to be justified when it took place in educational institutions, in some public places, for example in public transport, in the presence of minors, etc. " the statement reads.
The court also says the statements of political or religious organizations discredits the court activities and harms the court's image.
"It is regrettable that recent statements released by media outlets, political and religious organizations do not contain any substantial factual circumstances and impair the Constitutional Court's image," the statement reads.
Besides, the court responded to the demands of some religious groups about the abolition of the Constitutional Court.
"There is a broad consensus in the democratic society regarding the importance of the Institute of the Constitutional Court and of its special role in protecting different views. The Constitutional Court of Georgia will continue to carry out constitutional control and constant protection of human constitutional rights," the statement reads.
On July 30, the court decided to abolish administrative punishment for the use of marijuana.
Catholicos-Patriarch of All Georgia Ilia II disapproved the decision, saying it was "a big mistake" and it would promote drug trade in the country and the entire region as well.
Before Ilia II, several clergymen of the Georgian Orthodox Church spoke against the judges who made the controversial decision and stated that the whole Constitutional Court needed to be abolished.