Majority of Russians Support Putin's Foreign Policy
By Vladimer Napetvaridze
Monday, August 13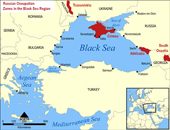 On 10 August, Russian news agency - "Ria Novosti" published the results of Russian Public Opinion Research Center survey, which was conducted on August 6, using the telephone interview method among 1,6 thousand respondents over 18 years old. According to the results, most Russians still consider that the decision to recognize the independence of so-called South Ossetia was correct, only 10% of the population think that it was a wrong political move.
80% of the respondents approved the decision taken ten years ago (growth from 75% in 2013), and against 9% (in 2013,14% of respondents had this opinion). At the same time, more than third (36%) of the respondents continue to monitor what is happening in so-called "South Ossetia."
Most (81%) of Russian citizens still believe that Russia was right to support South Ossetia with the military power. In 2009, the number of respondents who shared this view was 86%, but in some years, as shown by previous surveys, it was lower (76% in 2010 and 71% in 2013).
We may discuss possible reasons for the survey results: Russian citizens do not have accurate information about the 2008 events, and due to the information campaign carried out by their government, they believe that Georgia started the war against Ossetians, and Russia helped them defend themselves. The Russian government is actively trying to convince its population that Georgia started the war in 2008. The "Ria Novosti" article which published the results of the mentioned survey reads:
"On August 8, 2008, Georgian troops attacked South Ossetia, fired at it from the Grad rocket launchers and destroyed part of its capital, Tskhinvali. Moscow, defending the inhabitants of the republic, many of whom took Russian citizenship, used military forces and after five days of fighting, forced Georgian soldiers out of the region. In late August, Russia recognized the sovereignty of Abkhazia and South Ossetia,"- the "Ria Novosti" article reads. Therefore, the attitude of Russian citizens, towards 2008 events, shouldn't surprise us, as many of them still believe that they are the citizens of the empire, which defends justice everywhere, even on the territories of other countries.
Another likely reason is that despite the critical economic situation in the country, each aggressive international action of Russia causes the growth of Putin's rating. This fact is indicating that the Russian society/voters prefer to feel like a citizen of a strong empire, capable of managing an internal policy of other countries rather than to live in a developed country with a prospering economy.
It is to take into consideration that the survey used the telephone interview method. Presumably, citizens would be under pressure of an official agency of the authoritarian country while expressing their opinion on Putin's foreign policy.