No Georgians among Victims of Bridge Collapse in Italy
By Gvantsa Gabekhadze
Thursday, August 16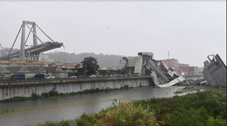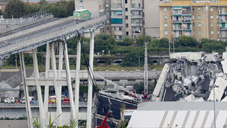 No Georgians have been reported among the dead or injured in the fatal collapse of the bridge in the Italian city of Genoa on Tuesday, claiming 39 lives and leaving more than a dozen injured.
The Ministry of Foreign Affairs of Georgia has addressed the citizens of Georgia living in Italy and published a hotline number.
Hundreds of Georgian citizens live and work in Italy.
"At this stage, the identification of victims of the accident has not been completed, and there is no information that the citizens of Georgia are among the dead and injured," the ministry reported.
The citizens of Georgia can get additional information via the hotline: +39 333 8879123, the ministry said.
Grief in Italy for the 39 victims of a collapsed motorway bridge in Genoa has been mixed with anger that such a vital structure could have simply given way, BBC reported.
Rescuers have little hope of finding more survivors underneath the Morandi bridge, where almost 40 vehicles fell 45m (148ft) in Tuesday's collapse.
The cause remains unknown for now. There have been calls for the heads of the company operating the bridge to resign.
This was the fifth bridge collapse in Italy in five years, Corriere Della Sera media reported.
There have been previous reports and comments questioning how the Morandi bridge was built and how long it could last.