Recreation Zone Instead of Hotel
By Vladimer Napetvaridze
Thursday, August 16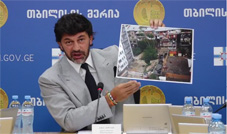 On August 15, Tbilisi Mayor Kakha Kaladze held a special briefing and discussed several issues. He spoke about the topic of constructions in the city and underlined the role of Tbilisi master plan in the process of city development. He also stated, that City Hall had to cancel one of the building construction licenses which were approved a few months ago: "It was 4-story hotel construction, which had to be done in Didube district, but the area where the building of this hotel was planned, is very tight, and limited. This fact stirred protest among the local population.
The sad fact is that this permission was issued by us, at the beginning of our work. It is our mistake, we shouldn't have granted this permission, we take responsibility, and the license is canceled now.
We had a negotiation with a private owner of this territory, and we offered him land at the other place. Fortunately, he agreed with us, and I want to thank him personally because it was impossible to add a new building to this particular area. Now I want to ask the head of Didube district to make a new park at this place," Kaladze said.
The mayor also spoke about the Master Plan of Tbilisi and its importance in the process of city development: "According to the Master Plane Tbilisi will be divided into 11 urban areas, each of them will have own strategy for development. This will help us to avoid terrible results, as we have in the area near Tbilisi Sports Palace, which is an example, how not to develop the city," stated Kaladze
Since there is no master plan regulating the city development, the constructions around the Tbilisi Sports Palace create an appearance of the so-called "concrete jungles." The issue leads Tbilisi to urban disaster and to avoid the catastrophe significant steps are necessary. On the other hand, while making this "significant steps" the government can't violate the rights of the citizens, which owns a property and has a license for construction.
On the one hand, the City Hall tries to avoid further disrupt the image of the city, but on the other side, doing this via abolishing or changing the already granted permissions, is not a valid message. Getting a construction license is a lengthy process, associated with financial expenses. Consequently, the precedent, that the City Hall has already changed the construction permit, even though it was a result of negotiations with the property owner, can cause skepticism of other owners who already have the construction license, or are going to get it in the future.
Tbilisi is gradually approaching an urban disaster. Incorrectly permitted construction licenses, besides distortion of the city image, causes traffic jams and air pollution.