US-Led Noble Partner 2018 Drills Completed
By Vladimer Napetvaridze
Friday, August 17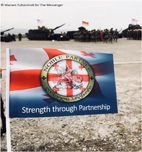 On 15 August, the fourth NATO-led military exercises on Georgian territory- "Noble Partner 2018" has ended. The large-scale activities, which took place at Vaziani military base outside the capital Tbilisi, involved of 1,300 Georgian troops, 1,170 U.S. troops, and a combined 500 from 11 other countries, among them: The United Kingdom, Germany, Estonia, France, Lithuania, Poland, Norway, Turkey, Ukraine, Azerbaijan, and Armenia featured in combined staff- and field efforts during the event.
Despite the fact, that "Noble Partner 2018" is NATO-led drills, non-NATO participants included Ukraine, Armenia, and Azerbaijan, former Soviet Union countries, were also involved in the drills.
As a conclusion of the Noble Partner 2018 multinational defense exercise outside Tbilisi, Georgian and allied nations featured in the ground- and air assets show practice. For the first time in the military drills history, Georgian troops utilize the FGM-148 Javelin portable anti-tank missile complex, since it was purchased from the US partners earlier this year. Also involving the AH-64 Apache attack helicopters of the US forces, the action saw ground hardware from Georgian and German troops.
In the drills also participated -the Marder infantry fighting vehicle from German units and the T-72 tanks from Georgia's 4th Mechanised Brigade. Beside this, military hardware, artillery, and engineering units also supported the joint effort of the final drill.
The exercises started on 1 August and lasted for the two weeks, coinciding with the 10th anniversary of the Georgian-Russian 2008 war.
At the closing ceremony, Georgia's Defence Minister Levan Izoria stated that Georgia wants to return the breakaway territories of Abkhazia and South Ossetia, only by peaceful means.
"We have a very positive attitude towards our neighbors, we only want peace, and we want to return the occupied territories into Georgia's internationally recognized borders," stated Izoria.
The primary goal of this kind of military exercises is to improve interoperability of the partner countries with NATO forces.
For more than a decade, Georgia has aspired to become the member of North Atlantic Treaty Organization, and in this process, support of the western partners, to increase military potential and strengthen defense capabilities, has vital importance.
Noble Partner exercises are an example that NATO supports Georgia's aspiration to become a member state of the Alliance.
A few days ago the President of the US signed 2019 National Defense Authorization Act, according to which one of the priorities of the U.S. will be to support robust security sector assistance for Georgia. The act will include lethal defensive assistance, strengthening the defense capabilities and readiness of Georgia. It will aim to develop interoperability with NATO forces and to affirm support for the Open Door policy of NATO, including the eventual membership of Georgia in NATO. Therefore NATO-led military drills are the part of Georgia's alliance integration path.