Mikheil Saakashvili - "I must save Georgia"
By Vladimer Napetvaridze
Monday, August 20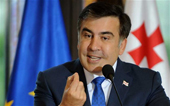 Ex-president of Georgia, Mikheil Saakashvili in his interview with Ukrainian news agency Novoe Vremia, stated that he is preparing to return in Georgia and save the country. Mikheil Saakashvili talked about upcoming presidential elections in Georgia and noted that his supporters would not allow anyone to manipulate with election results.
"As soon as the Georgian Dream loses, and they will lose, they will try to manipulate with the election results, but we will not allow them to do it. That's why I'm preparing to go to Georgia. I must save my country, "said the former president of Georgia.
Besides, Mikheil Saakashvili spoke about returning to Ukraine. According to him, as soon as Petro Poroshenko leaves the presidency, he will restore Ukrainian citizenship through court and go back to Ukraine to restore justice.
Mikheil Saakashvili made a similar statement several months earlier. In April 2018 he announced that the change of power in Georgia would be through revolution and after this change he would have made immediate reforms in several directions:
He stated that because of the catastrophic economic situation the number of citizens with a bank has increased from 110,000 to 250,000. Only in 2017 over 600 000 citizens addressed a pawnshop and according to this statistic, every fifth of them has discussed the pawnshop.
As for the second part of the statement, where Saakashvili spoke about a possible way how to deal with the difficult economic situation, the ex-president did not specify any details. He said that after defeating the business mafia would be transferred to small and medium business and this will support the economic growth.
Saakashvili also spoke about increasing the state pension and salaries of teachers, and police officers. He also mentioned that the government must change this year and since the next parliamentary elections in Georgia are due in 2020, the only way to change the government is a revolution.
As announced in the previous statement, Saakashvili once again repeated that he is preparing to return and save the country, but at this time, he didn't specify any details, except his plan not to allow Georgian dream to falsify the upcoming elections. However, Georgian Dream has not yet nominated its candidate nor has stated its position to which candidate they might support.
Saakashvili is wanted by Georgia's new government on multiple criminal charges, which he decries as politically motivated. On 2 October 2012, Saakashvili admitted his party's defeat in Georgia's parliamentary election against the Georgian Dream coalition led by Bidzina Ivanishvili. The constitution of Georgia barred him from seeking a third term in the 2013 presidential election, which Georgian Dream's candidate Giorgi Margvelashvili won. Shortly after the election, Saakashvili left Georgia.