Farmers Demand Monetary Compensations after Hailstorm
Tuesday, August 21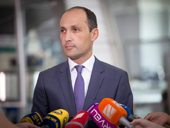 Farmers of the Kakheti region of Georgia, in the country's east, are demanding monetary compensations after hailstorm on Saturday partially of fully damaged their vineyards or maize.
However, the government says that the farmers will not receive the money.
Minister of Agriculture Levan Davitashvili says that the government has already agreed with factories and they will take and pay for the damaged grapes.
Farmers say that many of them have seen their harvest completely destroyed, in the situation when they had invested hundreds of Laries.
"We have nothing now to bring to the factories. What can we do? The government must help us and give compensations," the farmers say.
The government says in response that the farmers should use agro insurance to receive the money back from insurance companies in the case of the harvest damage.
Heavy rain and hailstorm damaged farmlands, maize and fruit gardens in Akhmeta municipality of Kakheti region.
The village of Kistauri has been heavily hit. Hail damaged vineyards and crops. The municipality mayor Ioseb Karumashvili told the media that rain and hailstorm damaged the road in the village of Akhshani, where trees fell down.
Special equipment is working in the affected areas.
Heavy rain and hail created problems in Telavi and nearby villages. The mudflows flooded several streets of the town and hampered the traffic movement. The first floors of the houses were also flooded.
The Georgian Emergency Management Service says that they have received 51 notices from Telavi and Akhmeta districts on the weekend. No one was injured during the disaster.