Georgia, Germany Sign Underground Gas Storage Facility Construction Agreement
By Tea Mariamidze
Monday, August 27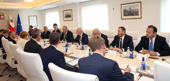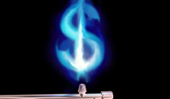 The Georgian Oil and Gas Corporation and the KfW (Kreditanstalt für Wiederaufbau) Development Bank of Germany signed the agreement on underground gas storage facility construction at Samgori Southern Arch Gassy Mine on August 24.
The agreement was signed during the visit of German Chancellor, Angela Merkel in Tbilisi.
As Georgia's Ministry of Economy and Sustainable Development reports, the agreement was signed by David Tvalabeishvili, the President of the JSC Georgian Oil and Gas Corporation and the German KfW Regional Director, Olaf Zimelka.
Deputy Ministers of Economy and Sustainable Development of Georgia, Nino Enukidze and Giorgi Cherkezishvili and the German Parliamentary Secretary for Economy and Energy Thomas Bareiß, attended the signing ceremony.
Under the agreement, EUR 150 million will be allocated by the KfW for the implementation of the underground gas storage project.
Construction of the underground gas storage facility will significantly increase Georgia's energy security and solve seasonal imbalances between the supply and consumption of the natural gas in the country and satisfy peak consumption during the winter seasons.
As reported, the construction works will be launched in 2019, and the facility will start to operate in 2022.
Around one week ago, Georgian Economy Minister Giorgi Kobulia said implementation of the project would protect Georgia from risks.
"After the gas storage is constructed, the country will have gas reserves for one and a half months. This project is commercially profitable because we can purchase the gas when it is cheaper," the minister explained.