Ten Years After Russia Recognized "Independence" of Occupied Territories
By Vladimer Napetvaridze
Tuesday, August 28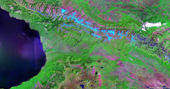 Abkhazia and Tskhinvali region are breakaway territories of Georgia, which was recognized as independent states by Russia on 26 August 2008. Russia's initial recognition of the independence of Abkhazia and Tskhinvali region occurred in the aftermath of the Russo-Georgian War. In total, Abkhazia and Tskhinvali regions have been recognized by 5 states respectively: Russia- 26 August of 2008; Nicaragua- 5 September 2008; Venezuela- 10 September 2008; Nauru -15 December 2008; And after ten years from the first recognition of Abkhazia and Tskhinvali region as an independent state, in 29 May 2018 Syria too recognized the breakaway territories of Georgia as sovereign states. It is noteworthy that in 2011 Vanuatu and Tuvalu recognized Abkhazia and Tskhinvali region, but a few years later both states withdrew their decision.
The recognition of the Tskhinvali region and Abkhazia triggered immediate reactions from other countries. Georgia responded by cutting diplomatic relations with all the states mentioned above. The vast majority of the states and international organizations officially considers Abkhazia and Tskhinvali region to be sovereign territory of the Georgian state under Russian military occupation. The European Parliament has passed a resolution demanding that Russia reverse its "decision to recognize the so-called independence of the Georgian territories of Abkhazia and Tskhinvali region."
The resolution, which comes nearly 10 years after the Russia-Georgia of August 2008 that resulted in Russia's recognition of the two territories, also "condemns the decision by Venezuela, Nicaragua, Syria, and Nauru to recognize Abkhazia and Tskhinvali region, and calls for this recognition to be withdrawn." The resolution, which was backed by the vast majority in the European Parliament, also calls on Russia to "cease its occupation" of the two breakaway regions and "fully respect the sovereignty and territorial integrity of Georgia, as well as the inviolability of its internationally recognized borders, and that it stops the de facto integration of both regions into the Russian administration."
The primary strategic partner of Georgia United States has a rigorous position regarding the issue of occupied territories of Georgia. The President of the U.S. Donald Trump has signed a legislative act which says that Georgia's breakaway regions – Abkhazia and Tskhinvali region have been occupied by Russia. The legislative act also imposes restrictions on US funding for any state that does not recognize Georgia's territorial integrity and prohibits US representatives in international financial institutions from supporting programs that violate Georgia's territorial integrity and sovereignty.
The list of countries that recognize the independence of Georgia's breakaway territories, demonstrates who stands behind their decision. Russia uses all possible leverages to make other countries recognize the independence of Abkhazia and the Tskhinvali region, but it seems that Russia's influence is enough for developing countries like Nauru and Nicaragua. Russia's recognition of Abkhazia and Tskhinvali region proved to be a kind of lustration on the international influence of this state, and the fact that even Tuvalu and Vanuatu also withdraw their recognition of Abkhazia and Tskhinvali region draws a picture of Russia's real international influence.