Increased Fines to Preserve Tbilisi Look
By Levan Khutsishvili
Wednesday, August 29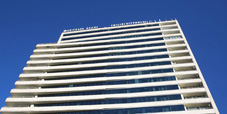 On August 28, 2018 fines for distorting the city's appearance in Tbilisi are rising. The amendment to the Code of Administrative Offenses, approved by the parliament in April, envisages the fourfold increase in fines.
Establishment of various types of inscriptions, drawings and symbols in the capital city, on the facades of buildings, windows, fences, columns, walkways, pedestrians and passenger passages. Placing posters, slogans, banners at inappropriate places, according to the Code of Administrative offenses will be fined with 200 GEL, as well as leaving fences and buildings unpainted, which was 50 GEL before.
Penalties for street trading will increase from 20 to 50 GEL. For repeated action person will be fined with 300 GEL instead of 100 GEL. For disobedience to the authorized person - the fine will be 200 GEL, and anyone using a vehicle or other means of transportation for trading in the street will be fined with 1000 GEL.
For non-Georgian writings on the facades, Individuals will be fined with 1000 GEL instead of 200 GEL, while legal entities will pay 3000 GEL instead of 300 GEL.
In case of damaging public spaces, by different means including political posters, the fine will be 200 GEL instead of 50; In case of putting unauthorized writing and drawings on the prohibited places, financial sanctions will be increased from 500 to 1000 GEL.
An arbitrary change of Tbilisi municipality's appearance includes the shift in the color of buildings. Before that, the fine was GEL 200, fine from 28 August to 500 GEL.
For the same actions in cultural heritage protection zone established by the Law of Georgia on Cultural Heritage, fine is 5 000 GEL and according to the new amendment it will stay unchanged as well as the sanctions for arbitrary installation and/or disposal of the ventilation system, ATM, laundry, ceiling, booth, crane and/or other light construction. In this case, a person is fined with 500 GEL and legal entity - GEL 1,000.
The changes in the amendment are expected to bring positive developments in the city appearance and regulate the chaotic situation of the city, though it will have some other outcomes, and maybe will complicate the life for many citizens, especially for the people who are involved in street trading. Increased fine – 50 GEL will be a heavy burden for them, since their only income is from this activity, and as a rule daily they may earn much less than 50 GEL; additionally each of them has other financial responsibilities.
"I have to pay money to the bank every month, my grandchild's food costs 19 GEL, and I need money for separate medicines. Every day a small kid needs a lot of things and if I will stay in the house, how can I save a family? " – says Ketevan Abuashvili, street trader.
A lot of citizens experience similar problems; if they lose the income from street trading, or they will not profit due to the increased fines, it means that they will appear on the edge of poverty. For now, the dilemma is, what is essential, the city appearance or economic well-being of its citizens. As the city doesn't offer any alternatives to the street trades, especially to those working in suburban areas.