Mukhtarli Case Not Discussed by Georgian PM and Azerbaijani President
By Gvantsa Gabekhadze
Monday, September 3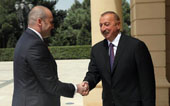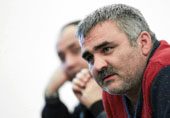 The notorious case of Azerbaijani journalist Afghan Mukhtarli, who disappeared from Tbilisi and re-emerged in Baku where he was scorned for his activities, was not among the topics discussed by Georgian PM Mamuka Bakhtadze and Azerbaijani President Ilham Aliyev in Baku.
The administration of the Georgian government says that the meeting held at the end of the last week mostly focused on economic issues.
"Georgia and Azerbaijan are strategic partners. We succeeded in implementing various projects of global significance" stated Bakhtadze, after his first official meeting with Aliyev.
"We discussed new projects, which we can implement jointly and which will further deepen our economic relations. At the same time, specific aims and goals have been defined. Trade volume will reach almost 1 billion this year, and we believe that in the coming two years we can improve this indicator by 50-60%.
"Besides, we agreed to scrutinize the possibility of establishing joint ventures. Georgia is the only country in the region, which has free trade regimes both with the European Union (EU) and China. Azerbaijan is one of the largest investors in Georgia, and of course there is a huge potential towards this end," Bakhtadze said.
Bakhtadze believes that "truly sound relations" exist between Georgia and Azerbaijan in education, arts and culture; however some issues need to be improved and advanced further.
"We have also agreed that additional consultations will be held on financial aspects of these initiatives. Our current free trade regime does not cover services. We will conduct additional studies, and I believe that new free trade regime will facilitate a greater increase of cooperation between Georgia and Azerbaijan. It was an excellent, truly successful visit, which I am confident will give a new impulse to our economic cooperation, "he said.
Azerbaijani investigative journalist Mukhtarli, who disappeared from central Tbilisi in May last year, was sentenced to six years in prison by the Balakan district court in Azerbaijan on January 12.
The court found him guilty of illegal crossing of the border, smuggling in money and resisting the border guards. Mukhtarli claims he was abducted from Tbilisi for his investigations into top figures of Azerbaijan, their businesses in Georgia and connections with the Georgian government.
Mukhtarli's wife, Leyla Mustafayeva, who is also an investigative journalist, has stated that his husband's verdict was part of a "joint deal" between the Georgian and Azerbaijani leadership.
"My husband was abducted from Tbilisi. The charges he was sentenced for are invented. Mukhtarli's arrest is an international offense that was committed by the Georgian and Azerbaijani governments. Governments of both countries are responsible for the arrest," Mustafayeva said.
Mustafayeva wrote that his husband was investigating Azerbaijani President Ilham Aliyev's and his family businesses in Georgia and the business interests between the Aliyev family and the Georgian government members.
"His journalist activities were the reason of the arrest," Mustafayeva said and vowed she and her colleagues would complete the investigations launched by his husband.
The US President Donald Trump's administration and the Organization for Security and Co-operation in Europe (OSCE) have called for the release of the journalist.
Georgian law enforcers are still investigating how Mukhtarlii appeared from Tbilisi in Baku.