McCain Street Proposal
By Vladimer Napetvaridze
Monday, Septemer 3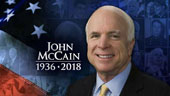 Tbilisi City Assembly Faction European Georgia has the initiative to change one of the street's name in Tbilisi and name it after the American Senator John McCain. The faction members submitted the respective initiation to the City Assembly Chairperson.
According to Goka Gabashvili, the Chairman of the Faction, it is necessary to hold consultations for this purpose and select a street that will be named after John McCain- "John McCain was one of the biggest supporters of our freedom, and political and defense capabilities on the international level. We all remember that he said: "Today we are all Georgians." We think we should have a street named after John McCain. We want to have multi-party support, and therefore, we appeal to the Chairman of the City Assembly, and other factions to negotiate this issue together," Gabashvili said. In response to this initiative, the Mayor of Tbilisi Kakha Kaladze stated that the topic is worthy of discussion and they should wait for the City Assembly's decision to start work on this issue.
"Senator McCain was known about his great sense of solidarity and support towards Georgia. He always stood by Georgia in the most difficult times. He continued to support Georgia in the aftermath of the 2008 war as well, constantly reaffirming his unequivocal support for Georgia's Euro-Atlantic aspirations and democratic processes in all his public appearances and statements. He was one of the outstanding politicians, and his memory will always remain in our hearts" – reads the statement of the Ministry of Foreign Affairs of Georgia.
Because of his support during the 2008 conflict, when Russia attacked Georgia, John McCain was awarded in 2010 with the Order of the National Hero - Georgia's highest state honor. "We are all Georgians now" stated the senator during the Russia– Georgian war, thus addressing the international community to support Georgia against the Russian aggression.