PM Thanks Shatili People for Protection Country's Northern Border
By Gvantsa Gabekhadze
Tuesday, September 4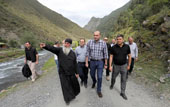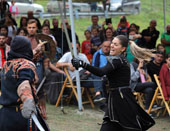 The Prime Minister of Georgia Mamuka Bakhtadze congratulated the population on the traditional feast 'Shatiloba' in Khevsureti region on Monday and thanked them for protecting the country's northern border with Russia.
The PM also vowed support to the people in the mountainous regions amid the opposition's harsh criticism that people are leaving Georgian areas due to the hard economic condition.
"Shatili has been guarded our northern border for centuries. Each Georgian and world culture is proud of this unique monument. We started rehabilitation works in Shatili. This year one tower has been rehabilitated, and we already have a general plan of development", – the prime minister said.
Bakhtadze spoke about the sustainable development and rehabilitation five-year plan of another unique monument – Mutso.
"It is essential to maintain each detail and nuance of these monuments during the rehabilitation. We are very rapidly rehabilitating roads, improving tourism infrastructure and I am sure it will be reflected directly on the local population's income," Bakhtadze said.
The European Georgia and the United National Movement opposition say that the government is very slow to benefit the state economy and improve the current hard socioeconomic situation.
They say that Georgian regions, especially the mountainous areas, are being emptied from locals as they have no incomes and have no condition to live during cold winter and spring seasons.
The opposition believes that the situation benefits the enemy, which is carrying out the creeping occupation of the historic Georgian land.