Decision of Giorgi Margvelashvili
By Levan Khutsishvili
Tuesday, September 4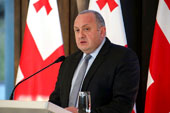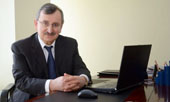 On August 31, 2018. President of Georgia Giorgi Margvelashvili, during the meeting with students, announced that he would not participate in upcoming presidential elections.
"As, during the five years of presidency and before that, I tend to serve my country in future. I was never obeying the wishes of the elite or other groups, I was always in the service of Georgian citizens and Georgia. I will not take part in this election, but will continue to serve my country another way," – said President.
Before this statement, there were talks that Giorgi Margvelashvili was going to participate in the elections. According to the research of NDI, published on August 1, 2018, among the possible candidates from opposition parties Giorgi Margvelashvili had the highest chances to defeat the candidate of "Georgian Dream":
- Georgian Dream (32%), National Movement (20%);
- Georgian Dream (32%), Alliance of Patriots (11%);
- Georgian Dream (31%), Davit Bakradze (20%);
- Georgian Dream (26%), Giorgi Margvelashvili (21%).
Margvelashvili himself said that he always felt support from society:
"Today I would like to thank my team for serving these ideals for five years, but I would like to express my gratitude to the Georgian people and the Georgian community because I have had distinguished support during this period. Believe me, it is a very small country where the whole political elite is fighting against one person, using all possibilities to discredit him and in these difficult moments when I was walking in the streets of Dusheti or Tbilisi, I had a main barometer, how people were welcoming me, and this is why I was convinced that I am going in the right way" – said Margvelashvili.
The leaders of opposition parties negatively estimated his decision.
"The President has made a wrong decision. When he is the president of the country, he could have continued his political life, even as an independent candidate or has created his political team and focused on future political life. He could stay in politics, especially when he had a good team. I mean his administration, the people he gathered", - said Roman Gotsiridze, Chairman of Faction "National Movement."
David Usupashvili, founder of the centrist opposition force "Movement for Construction" and presidential candidate, has the same position as Roman Gotsiridze towards the decision of Margvelashvili. Usupashvili wanted Margvelashvili to join his party and be the presidential candidate, but Margvelashvili refused and as Usupashvili said he would undertake this responsibility.
According to the research's and positions of some oppositional parties, Margvelashvili could have a chance to fight for the presidential chair, especially when "Georgian Dream" has no official candidate. So, what could be the reason for his refusal? Roman Gotsiridze thinks that one of the reasons could be pressure from Bidzina Ivanishvili, soon after Margvelashvili became president confrontation between President and Ivanishvili has started, so almost 5 years Margvelashvili was opposing ruling party and its decisions, that's why Gotsiridze thinks that those years could create huge discomfort for president and it influenced his decision. Another reason, and most realistic that Margvelashvili also underlined is that he knows that the ruling party will not support him, and it means that he will have no chance to win the election. Though Salome Zurabishvili is an independent candidate, probably "Georgian Dream" will support her, and as all the elections in Georgia prove it, mostly win those candidates who have support from ruling parties.