Growing Tension Between the Opposition parties
By Vladimer Napetvaridze
Wednesday, September 5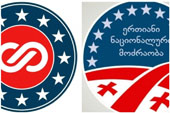 "European Georgia" and "Power is in Unity" opposed each other again. On September 3, at the press conference in Kutaisi, the Presidential candidate of the movement Grigol Vashadze stated that at least 140 members left "European Georgia" and joined his election campaign. This statement became the next reason for a confrontation between former teammates.
Those who joined the movement "Power is in Unity," left "European Georgia" about ten months ago. However, according to Vashadze, it seemed that the former members of European Georgia left the party to join the new political movement."This process will continue, and even more outstanding Georgians and political organizations will join our team"-Vashadze stated.
One of the leaders of "European Georgia"-Gigi Ugulava, responded to these statements: "These individuals left European Georgia" ten months ago, and these statements of United Movement is just a simulation." We don't understand, why the party with which we have signed an agreement with the European People's Party initiative, and agreed to focus against the governmental presidential candidate, makes such simulations? It seems that the main problem for the UNM is "European Georgia," not the Georgian Dream" - Ugulava stated.
It is not the first case when the presidential candidate of the ten Georgian opposition parties affiliated with the coalition "Power Is in Unity" broke the agreement signed between United National Movement (UNM) and European Georgia. A three-point document which was signed with the initiative of the European People's Party (EPP) in July, consists of three key points: 1. Parties will support each other's candidate who passes in the second round of the presidential elections; 2. During the campaign, they will refrain from attacking each other. 3. In the first and second rounds of elections, they will maximally mobilize their voters.
According to the document, parties won't focus on their differences, and neither will attack each other during the presidential campaign; instead, they will mobilize the voters to take part in elections in the first and second rounds.
After the UNM together with nine opposition parties presented Grigol Vashadze as the presidential candidate, the mentioned agreement has been broken. At one of the meetings with the voters, Vashadze blamed members of the "European Georgia" in crimes and mistakes made during the period of UNM governance. The candidate spoke about last year's local self-government elections when he ran for the post of mayor of Kutaisi. He stated that Georgian Dream and European Georgia spent a lot of money in Kutaisi and it was impossible to participate in such clowning.
Strained relations between the parties may be linked to the current political situation. The ruling team, whose candidate would be the main competitor for both parties, has not yet nominated its presidential candidate, nor has named an individual candidate to whom they will support and therefore, at the moment, the candidates of "European Georgia" and the UNM are the main competitors for the presidency.