Georgian and Armenian PMs say Trade Turnover Should Increase
By Gvantsa Gabekhadze
Tuesday, September 11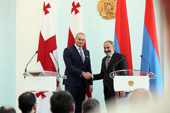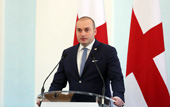 Georgian and Armenian prime ministers stated in Yerevan on Monday that the Georgian-Armenian trade turnover should increase to 1 billion USD.
During his first official visit as prime minister in Armenia Mamuka Bakhtadze mainly focused on trade-economic issues when he met with Nikol Pashinyan.
The Georgian PM also spoke about Georgia's Euro-Atlantic choice.
Pashinyan congratulated Bakhtadze on his appointment and expressed hope that his official visit to Armenia will promote further development of relations between the two countries.
Bakhtadze thanked the Prime Minister of Armenia for his hospitality and highlighted the important reforms implemented in Georgia.
Bakhtadze said that a number of important steps would be taken towards the transformation of the country and the rapid development of the Georgian economy.
"We are ready to share our experience with friends," Bakhtadze said.
Pashinyan arrived in Georgia in May 2018, shortly after his election as PM.
"Our people are deeply connected, and the connection is inseparable. It is not a coincidence that my first official visit took place in Georgia. This reveals not only my people's attitude toward Georgia but also my attitude to the Georgian people and the country," Pashinyan told then PM Giorgi Kvirikishvili.
Pashinyan stated that he and his administration would spare no efforts to enhance bilateral relations with Georgia.