Zugdidi Mayor, Charged with Corruption, Says he is Victim of Provocation
By Gvantsa Gabekhadze
Tuesday, September 18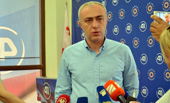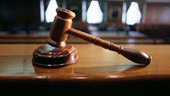 Elected Mayor of Georgia's western Zugdidi town Lasha Gogia has dismissed corruption charges and said that he is a victim of provocation.
Gogia, who was in the Czech Republic when he was charged with alleged corruption, says that he would not have returned to Georgia if he had committed a crime.
He also said that he remains in the Georgian Dream ruling party team, despite the party's statement that Gogia's case indicated the party's intolerance to any possible illegalities by the party representatives or high-ranking people.
The mayor was charged by the State Security Service after Rustavi 2 private broadcaster released a video footage, in which a businessman allegedly asks Gogia for his money back.
"My goal is to prove the truth. I quit the post to avoid any question marks and I myself arrived for interrogation as soon as I returned from Czech," Gogia said.
Gogia and his deputy Gia Gulordava quit their posts on September 12 as the Georgian State Security Service launched an investigation concerning the corruption case.
"Recently question marks have arisen regarding a possible crime committed by elected officials of Zugdidi municipality, which must be answered. The investigation is in progress," the Georgian Dream ruling party official webpage reads.
"The Georgian Dream has many times proved that everyone is equal before the law," says the statement.
If Gogia fails to prove his innocence he will have to spend several years in prison.