The Role of the U.S against Russian Aggression
By Vladimer Napetvaridze
Wednesday, September 19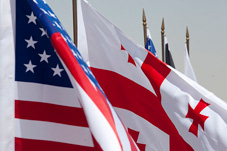 On 16 September, Prime Minister of Georgia Mamuka Bakhtadze has left for the United States to hold several official meetings at the White House. Besides the meetings, he will deliver a speech to participants of the 73rd General Debate at a session of the UN General Assembly on September 27 and attend the opening ceremony of the session as well. Bakhtadze has also been invited to a reception organized by Donald and Melania Trump which will be attended by the heads of governments attending the 73rd session.
The researcher of the "Heritage Foundation"- Luke Coffey, discussed the importance of Bakhtadze's visit, and stressed out the role of the US in Georgia's Euro-integration process, he also touched upon the topic of Russian aggression:
"Bakhtadze's visit to the US is at a convenient time because the American and Georgian leaders are gathering for strengthening bilateral relations between Georgia and the U.S. The United States can actively persuade other partners that the presence of Russian troops in Georgian territory, is an occupation. Trump administration supports Georgia to enhance defense capabilities and I think, in the future, the US government should continue deepening the relations with Georgia in this direction. The United States can help the peace initiative project of the Georgian government "a step to a better future", by expressing political and diplomatic support. The active support of the US will be exemplary for other countries and it will strengthen the initiative and make it more reliable and effective for citizens living in the occupied territories"- Coffey stated.
During the last two years, the support of the US towards Georgia has increased, especially in regards to equipping the country with modern technology and armor. Last year Georgia bought Javelin system anti-tank missiles and air defense system missiles - Stingers. Besides, the United States actively supports Georgia's integration into NATO and the European Union, reflected in The National Defense Authorization Act, which, affirms "support for the Open-Door policy of NATO, including the eventual membership of Georgia in the Alliance." According to the mentioned document, various U.S. federal agencies will spend 105.3 USD million on assisting in Georgia. Besides, the U.S administration will ban aid to governments recognizing Abkhazia and Tskhinvali regions.
Russian occupation of Abkhazia and Tskhinvali Region is recognized by various international documents and resolutions, but the Russian government uses all possible leverages to influence the allied countries and make them recognize the independence of the territories; therefore, the support of the US and its position in regard to Georgia's breakaway territories at the moment gives a hand.