Gov't Postpones Wheat Import Restrictions for One Year
By Gvantsa Gabekhadze
Friday, September 21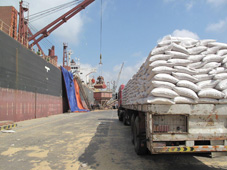 Georgian Finance Minister announced on Thursday that the wheat import restriction, which allows wheat product import only via rail and sea transport, will be postponed for one year.
Minister Ivane Machavariani made the statement after his meeting with Georgian drivers importing wheat into Georgia from Armenia, as the drivers had been protesting changes since September 17.
One of the drivers even walked up the roof of one of the buildings and said that he would commit a suicide if the government did not change its decision over the restrictions, which would have come into play on October 1.
The driver said that he had severe financial problems and if the government banned wheat import by trucks his family would face deadly problems.
Police had been negotiating with the man for several hours and when the minister appeared at the scene he was taken down safely.
The driver attended the meeting with Machavariani.
"We have taken the drivers' conditions into account and postponed the changes for one year. We also decided to discuss future restrictions in the presence of the drivers. This may include seasonal restrictions or several others," Machavariani said.
Drivers said that they were ready to get involved in the negotiations.
The motive why the government wants the ban wheat import via road transport is that "the import creates rows at Larsi checkpoint and creates problems for visitors".
Machavariani says that the wheat import via trucks may become seasonal after one year.