Is United National Movement Main Opposition Party?
By Levan Khutsishvili
Friday, September 21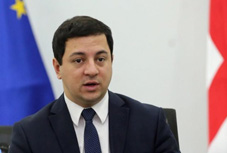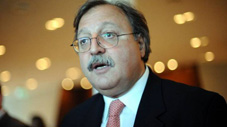 On September 19, at the parliamentary sessions Archil Talakvadze, the chairman of the parliamentary majority, criticized "United National Movement" and its Presidential candidate Grigol Vashadze for the anti-campaign they started against the presidential candidate Salome Zurabishvili, supported by the Georgian Dream. According to Talakvadze, Grigol Vashadze and other people who "Ran away during the 5 days the war", have nothing to say about Salome Zurabishvili and their attempts of discrediting Zurabishvili proves that National Movement is not main opposition party anymore and it will be demonstrated once again by the results of elections.
"I would like to remind you that your candidate Grigol Vashadze was a mayoral candidate in Kutaisi 1 year ago and Giorgi Chigvaria, who, though has not withdrawn Russian bases, has defeated him, so what do you hope now? Salome Zurabishvili will win these elections in the first round because of your actions. The society should know why National Movement and the people associated with the party are so aggressive in this campaign. You probably understand that not only your candidate is losing in this election but your party as well, the party that you were trying to promote as the main opposition force. You lose the election and you lose the status of "main opposition party". Your main interest is to maintain a myth that you are the main opposition party. You are not the main opposition party anymore and this worries you the most and it will be proved once again in this election, "- the leader of the parliamentary majority told the members of "United National Movement".
It seems that Archil Talakvadze and "Georgian Dream" is sure that Salome Zurabishvili will win the elections. However, media as well holds a negative opinion on Zurabishvili. Opposition parties, part of the society and some members of the Georgian Orthodox Church openly criticize Salome Zurabishvili for her statements. Group of people has created the online petition signed already by 13 723 people, asking Georgian Dream and Salome Zurabishvili to remove her candidacy from elections, as her statements were anti-state.
"We believe that a person spreading and disseminating narratives of Russia and messages from Kremlin cannot fulfill the taken responsibilities before the country and society and cannot guarantee the independence and territorial integrity of the country." – is said in the petition.
Another group started transferring 30 Tetri on Salome Zurabishvili's bank account writing in the description "Don't sell Georgia for 30 Silver".
Above is mentioned a minor part of the campaign going on against Salome Zurabishvili and critics and negative statements from representatives of the church can have a serious effect on the opinion of the electorate and in the end- on the results of elections. Archil Talakvadze may be mistaken to believe in the victory of Salome Zurabishvili in the first round, but if there is a second round, who will be the second candidate?