Media Releases Audio Footage on Alleged Extortion by ex-Ministers
By Gvantsa Gabekhadze
Monday, September 24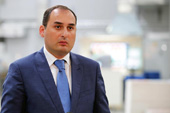 Georgian opposition-minded TV channel Rustavi 2 has released several videos which include alleged facts of money extortion and business racketeering by former Georgian Dream ruling party ministers Dimitri Kumsishvili, Nodar Khaduri and Levan Kipiani.
In the most recent video released last Friday former Sports Minister Levan Kipiani is allegedly demanding cars for former finance ministers Kumsishvili and Khaduri from the representative of the Georgian business corporation Omega Group.
Omega Group, which is involved in tobacco, car and printing business and owns opposition media Iberia TV, has been facing problems for past several years, which they say "are deliberately created" by the Georgian Dream government.
The Georgian Finance Ministry says that one of the companies of the Omega Group, OGT, a cigarette manufacturer, has 51 million GEL debt to the state.
The ministry says that the Omega Group has been offered a scheme to cover the debt, but they failed to do so.
The Omega Group, however, says that they addressed the ministry in 2017 about the debt restructuration, but a relevant commission has not gathered so far to settle the issue and the interest rate has grown to millions due to the ignorance.
Speaking about the reasons for accumulating the debt, the Omega Group also accuses the government and says that the non-competitive environment in the tobacco field created the financial problems for the company.
In particular, they say that OGT suffered a $100 million loss after multinational company British American Tobacco violated the laws on competition and tobacco control.
Levan Agdgomelashvili, the Omega Group General Manager says that the distributor of the British –American Tobacco to Georgia was the business partner of former Prime Minister under the Georgian Dream Giorgi Kvirikashvili.
He says that all courts in Georgia confirmed the financial loss, but made no orders for the Omega Group to regain the money.
Iberia TV, which is owned by the Omega Group, is also on the verge of closure.
One of four secret audio footages released by Rustavi two, says that if the Omega Group closes the TV channel, the group will receive the support from the state to overcome the financial crisis.
Iberia TV also believes that the government wants to silence them.
Both Kumsishvili and Khaduri dismissed involvement in any illegalities and said that they will address the law enforcement agencies and the court to defend own interests.
Zaza Okuashvili, the founder of the Omega Group, meanwhile told the Rustavi 2 that the Georgian Dream ministers have been involved in the pressure on his business.
Parliament Speaker of Georgia Irakli Kobakhidze and members of the Georgian Dream government say that all the questions must be answered and they welcomed the launch of investigation over the audio footages.
However, they claim that business and the media are absolutely free under the current state leadership, the view which is not shared by the opposition.