Georgia Ranked 7th in Economic Freedom Index
By Tea Mariamidze
Thursday, September 27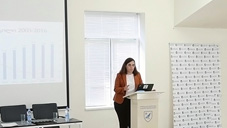 Georgia is at the 7th position among 162 countries in the Index of Economic Freedom 2018. The information was released by the Deputy Minister of Economy and Sustainable Development, Ekaterine Mikabadze at the presentation initiated by the New Economic School – Georgia.
"We have gradual improvement in rankings during the recent years. We have advanced in the position this year as well and are among the countries with the freest economies," she stated.
In 2016 Georgia shared 7-9 positions with the Republic of Australia and the Republic of Mauritius, while in 2017 the country held the 9th position.
According to the Deputy Minister, Georgia's changing position from the ninth position to the seventh is the reflection of the reforms that are being held in Georgia.
"These reforms will continue and reflect the ratings of the following years. In this respect, I will highlight one of the main components of the Index which is the size of the government, in which we will obviously see improvement next year, one of the initiatives of our Government is the reduction of the size of the Government," she said.
Mikabadze noted that Georgia's improved raking is an important message for investors and the international community indicated the quality of economic freedom in the country.
"There are five main directions in which we have significant achievements, including achievements in terms of regulations, where there is a sharp improvement. There is still ground for further improvements and, I think, this will undoubtedly reflect on the ratings of the following years," she underlined.
Annual summarizing ranking – the Index of Economic Freedom is prepared by the Canadian Fraser Institute in cooperation with independent economic researchers and educational institutions from over 100 countries worldwide.
The Index of Economic Freedom is the largest ranking survey which evaluates countries according to the five key areas: government size; property protection and court; sustainable monetary policy; freedom of international trade; regulations for credits, employment, and business.
2018 Index of Economic Freedom ranks the countries as follows:
1. Hong Kong;
2. Singapore;
3. New Zealand;
4. Switzerland;
5. Ireland;
6. US;
7. Georgia;
8. The Republic of Mauritius;
9. United Kingdom;
10. Australia.