Meetings of General Assembly of the United Nations
By Vladimer Napetvaridze
Thursday, September 27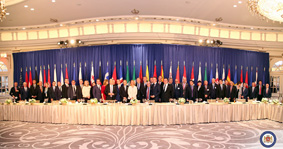 On 26 September, New York hosted meetings of the General Assembly of the United Nations, which was attended by the Foreign Ministers of the EU and the NATO Member States.
According to the Foreign Minister of Georgia, David Zalkaliani, this assembly indicated clearly that Georgia is a strategic ally of the US. and provides yet another proof of Georgia's successful integration process with NATO.
"It is the first when Georgia, Macedonia, and Ukraine to participate in such a meeting. Such meetings are usually involving the member states and Georgia has been invited for the first time. This indicates to Georgia's successful integration process with the NATO and EU", Zalkaliani Stated.
The Secretary the Department of State Mike Pompeo, NATO Secretary General Jens Stoltenberg, the High Representative of the Union for Foreign Affairs and Security Policy Federica Mogherini were among those who spoke before the participants of the meeting.
According to the statement posted on the web-page of the Ministry of Foreign Affairs of Georgia, Zalkaliani had the opportunity to talk to the Secretary of the Department of State. Mike Pompeo gave a high appraisal to the Georgian Prime Minister's visit to the US and expressed his readiness to further contribute to the strengthening of the strategic partnership between the two countries.
Georgia and Ukraine have are both post-Soviet states, with the occupied territories by Russia. In 2014, Ukraine and Georgia signed an Association Agreement (AA) with the EU (came into force in 2016), thus committing to the path to European integration. The agreement was an important milestone since, despite the Russian pressure not to sign the document, both states decided to officially define their European path by signing the Association Agreement. Nowadays Russia uses all its leverages to hinder the EU integration process for these countries, among them are cultural, religious, historical, economic aspects. Thus, it is very important to accelerate the integration process, but on the other hand, in order to become the EU member states, Georgia, Ukraine and Moldova must take reforms in several directions that take time.
A few weeks ago, at the economic forum held in Poland, Latvian Foreign Minister spoke about the issue of Georgia's accession to the European Union: "Ukraine, Moldova and Georgia have chosen the European path. They are trying to join the EU and the EU should respond to their aspirations. The EU should recognize the prospects of membership of these countries and announce a deadline for their membership", Latvian minister said.