Grigory Karasin Threatens Georgia
By Levan Khutsishvili
Tuesday, October 9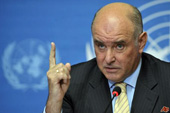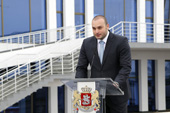 On October 8, Russian Deputy Foreign Minister Grigory Karasin spoke about Georgian – Russian relations in an interview with the newspaper "Izvestia". According to Karasin, Tbilisi continues "unfriendly" actions against Russia on international stages and this can create serious problems for the process of stabilizing the relationship between the two countries.
"Tbilisi does not yet try to restore diplomatic relations, continues working against Russia on the international arena and participates in NATO's strategy of deterrence Russia. We directly warn the Georgian partners that this kind of behavior threatens the process of normalization of relations started in 2012, because of this process citizens of both countries already have several benefits," - said Grigory Karasin.
Grigory Karasin also added that Moscow and Tbilisi have a perspective that agreement on visa-free travel achieved. However, he said, the absence of diplomatic relations prevents it.
"As for visa liberalization, as you know, 2015 visa regime with Georgia was significantly simplified and every citizen of this country has the opportunity to obtain a visa to Russia. In fact, we do not exclude that there is a perspective for visa-free regime between Georgia and Russia. The other thing is that so far it is practically impossible to do, as the absence of diplomatic relations prevents the process. Another reason is a difficult situation in the world that affects everything, I mean an increased threat of terrorism, the problem of illegal migration and many other issues. And of course, we have to take all these things into account, "- said the Deputy Foreign Minister of Russia.
Besides the difficulties in diplomatic relations Grigory Karasin spoke about the other aspects of Georgia-Russia relations and as he said progress in foreign trade and transport is obvious as the turnover of bilateral goods continues to grow, for example in January-July period it increased by 44% and according to Karasin, trade capacity in 2018 will reach $ 1 billion.
Gregory Karasins reaction can be the answer of the speech of Prime Minister of Georgia Mamuka Bakhatdze made on 73rd Session of the UN General Assembly. He once again criticized Russia for aggression and occupation and asked the international society for support.
"…All this reiterates that the Russian Federation's main motivation was a military intervention to establish military bases in our territories, not to protect the rights or interests of the local population, as they publicly, officially declare. This true intention is witnessed firsthand on a daily basis by our citizens in the occupied territories.
Razor wires and other artificial barriers split families and violate fundamental human rights. Those who live along the occupation lines are even prevented from visiting houses of prayer and the graves of their ancestors. Our citizens are prohibited from educating their children in the native language.
Abductions, torture, and murder continue. Archil Tatunashvili, Giga Otkhozoria, and 18-year-old Davit Basharuli are the recent victims.
Because of these and many other cruel offenses, the Otkhozoria-Tatunashvili List was created to include the names of those who committed these egregious crimes. We believe that those on the list must be held accountable through applicable international law." – said Mamuka Bakhtadze.
As it seems the Russian side was expecting a different kind of speech, and this expectation could be related with the statement made by the previous Prime Minister Giorgi Kvirikashvili on March 9, 2018:
"…We have already announced and are reaffirming that we are interested in achieving real progress in the Geneva International Discussions Process, for which I have confirmed the willingness of my personal involvement. We are ready for a direct dialogue with Abkhazians and Ossetians and will welcome the constructive approach of the Russian side in this regard. In case of political will, it is possible to take other reasonable steps", - stated Giorgi Kvirikashvili.
This statement was understood from Russian side as a positive message, but the new prime minister of Georgia criticized Russia from the stage of UN, and Karasin, coming from the perspective of Russia and expectations they may have had, threatened Georgia ones again.