Saakashvili Slams Mamuka Khazaradze from TBC Bank
By Tea Mariamidze
Monday, November 5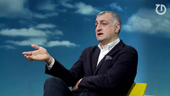 Former President of Georgia, Mikheil Saakashvili says Chairman of the TBC Bank Supervisory Board Mamuka Khazaradze, is part of the "robbery scheme" of Bidzina Ivanishvili, ex-pm and founder of the ruling Georgian Dream (GD) party.
Ex-President claims Khazaradze is involved in the pre-election campaign of the GD, which backs an independent presidential candidate Salome Zourabichvili.
Moreover, Saakashvili told Rustavi 2 that Khazaradze is using his employees for political purposes, adding it contradicts all principles of the international business.
"TBC Bank is at the London Stock. I am going to address their representative to impose financial sanctions against Khazaradze," ex-president said.
According to Saakashvili, Khazaradze does not have the right to talk on behalf of people who work for him.
"The change of power by elections after the 6-year unsuccessful governance is not revenge. It is a demonstration of democracy and protection of dignity by the Georgian nation. Mamuka Khazaradze, involved by Ivanishvili in his campaign, is part of Ivanishvili's robbery scheme and blackmails Georgian people with destabilization",
Saakashvili's comment came after Khazaradze's statement, which assessed the results of the presidential elections.
Khazaradze noted the country was in danger of revanchism, saying it could impede Georgia's development for several years and cause chaos.
He said the recent statements of the leader of former ruling party United National Movement (UNM) contains a call for deprivation and expropriation of private property.
According to Khazaradze, during the UNM government, his and others' businesses had repeatedly become a victim of pressure from the authorities.
"In 2004, I was personally charged with a criminal case entirely based on absurd allegations, which had been underway for a long time since 2007. Then TBC Bank practically banned to issue credits. Also, there was an attempt of misappropriation of my own property in Adjara, which stopped in 2012, after the decision of the court," he stressed.
Khazaradze added that he never thought of paying back to people who pressured him. He called on everyone to "say no to revenge and revanchism in order to protect the country from disastrous results."
"TBC bank team's and personally my wish is to stop dividing country into two camps," he said, referring to the GD and UNM parties and their supporters.