"No One Needs Pardon"
By Levan Khutsishvili
Monday, November 5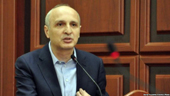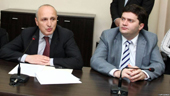 On November 2, former Prime Minister and former Minister of Internal Affairs of Georgia Vano Merabishvili wrote on his Facebook page that he will not ask Grigol Vashadze for pardon. Vano Merabishvili was arrested in May 2013.
"After the defeat in the first round of the elections, hysteria has started in Georgian Dream and because they have nothing to say to the people they are trying to frighten people with amnesty of prisoners and turmoil in the country.
I do not need a pardon. The Strasbourg Court has twice named me as a political prisoner - first instance and then a big chamber. I am the only prisoner in Europe, where Strasbourg recognized the violation of article eighteenth." – writes Vano Merabishvili.
Merabishvili also mentioned that the defeat of Georgian Dream is inevitable and hysteria and fear in the party worsen their situation.
On October 31, former Minister of Internal Affairs Bacho Akhalaia, who was imprisoned in 2014, and on October 30, 2018, former president of Georgia Mikheil Saakashvili made similar statements – that they will not ask Grigol Vashadze for pardon.
As it seems, Merabishvili, Saakashvili and Akhalaia understand there are negative impressions in society about them and they are trying to prevent Georgian Dream from manipulating with Grigol Vashadze's statement about pardoning Saakashvili, Merabishvili, Akhalaia and others related to Saakashvili's government.
After became clear that there will be the second tour of Presidential Elections between Grigol Vashadze from United Opposition and Salome Zurabishvili, an independent candidate supported by Georgian Dream, members of the government, representatives of civil society organizations and business immediately started saying there is a possibility of a civil war in Georgia if Grigol Vashadze wins the second tour and becomes the president of Georgia.
According to the constitution, the president has the right to pardon prisoners. Some Georgian Dream representatives believe that as Grigol Vashadze was the Minister of Foreign Affairs of Georgia from 2008 till 2012, and now is a member of the United National Movement, he will pardon his political teammates; and if Saakashvili, Merabishvili, Akhalaia and others are pardoned, they will try to come in power, so a civil war is possible, as the ruling party is not going to let United Nation Movement regain power.
One of the main messages for the second tour of Presidential Elections from Georgian Dream is possible civil war and the United National Movement's will to take revenge.
Such discussions between the parties, particularly those about possible civil war may significantly influence the society's decisions, especially for those who didn't vote on the first tour of elections, which is 53% of the voters.