Clergyman Detained by Occupants Released
By Gvantsa Gabekhadze
Thursday, February 7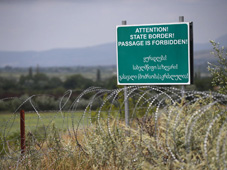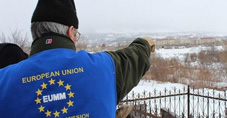 A clergyman, David Durglishvili, who was detained by occupants on Monday, has been released.
The occupying forces detained him in the Nikozi village of eastern Georgia, when he was cultivating an agricultural land for the "illegally crossing the border."
The clergyman stated after the release late on Tuesday that he wanted to touch his land which is now occupied and that is why stepped to the area which is now under the control of Russia and the de facto government.
He said that he was released without paying fine and was well-treated in prison.
The European Union Monitoring Mission was involved in the talks to release the clergyman.
Up to hundred Georgian citizens were illegally detained for crossing the so-called border of occupied Tskhinvali (South Ossetia) region last year.
"The creeping occupation has been in progress since 2011 and it has been revealed through the erection of illegal barbed-wire fences, digging so-called anti-fire canals and the erection of other artificial barriers," the State Security Service says.
Detainees are generally released after paying a fine, which amounts to about 30 USD.
However, Tskhinvali has plans to increase the fine to 300 USD.
The money the occupied Tskhinvali budget received due to the detentions amounted to more than 116,000 GEL [more than 42,000 USD] between 2008 and 2017.
People living in the villages adjoining the occupied territories say that the occupants frequently ambush on the territory currently under the control of the Georgian government to abduct people and make them pay fines.