UNICEF, Georgian Health Ministry Launch Child Development Monitoring System in Adjara
By Gvantsa Gabekhadze
Wednesday, April 17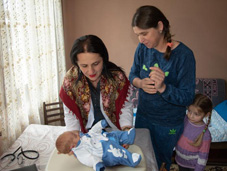 The child growth and development monitoring system for children aged 0-6 has been launched in the Autonomous Republic of Adjara, which comes after the cooperation of UNICEF and the Ministry of Health and Social Issues of Adjara, in western Georgia.
The programme aims to strengthen the supervision of child development within the primary healthcare system and is being carried out with financial support from the EU.
"Data on children aged 0-6 will be entered into an electronic system, which is linked to the birth registry. Information appears in the system immediately after a child is born. Consequently, the primary healthcare team is informed of the arrival of a newborn in its district and this creates the basis for proactive action by the doctor and nurse. This project is being piloted in Adjara," UNICEF Georgia reports.
Primary healthcare professionals are obliged to enter data on a child into tablets.
"Doctors and nurses equipped with the tablets visit families, monitor children and consult families on child growth and development," UNICEF says.
With financial support from the EU, UNICEF has already purchased 107 tablets.
These have been transferred to all the primary healthcare teams at the Ministry of Health and Social Issues of Adjara for the pilot programme.
With the help of the electronic system, primary healthcare professionals evaluate the economic conditions of a family and support vulnerable families in receiving state assistance.
The module also evaluates a mother's health during the postnatal period and enables timely identification of any health-related complications.
UNICEF believes that the mechanism will improve the primary healthcare system and in particular, child supervision and support for families with small children.
Primary healthcare professionals, doctors and nurses undertaking the pilot in villages have undergone additional training on issues of child development. So far 120 professionals have gone through this training.
In one month over 650 children have already been registered in the system.