Another accident on a construction site
By Levan Abramishvili
Wednesday, April 17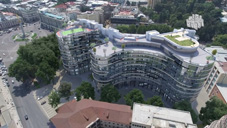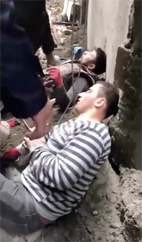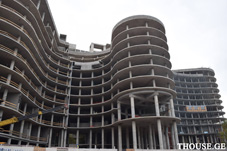 On April 16, the controversial Panorama Tbilisi once again came under the spotlight, when three workers employed at the construction fell from the scaffolding. All of them got injured and were taken to the hospital, but, fortunately, their lives are not under threat.
One of the workers, a 21-year-old man, got serious head injuries, broken ribs, and severe bruising. The other one, 30-year-old man has a broken leg, according to the eyewitnesses.
From the video that was posted on Facebook, it is apparent that the injured workers were not wearing helmets or any other safety equipment.
The Ministry of Internal Affairs launched an investigation under the article 240, paragraph 2 of the Criminal Code of Georgia (breach of safety regulations during mining, construction or other works that result in death or other grave consequences).
This comes after the tragic death of two workers just a few weeks ago at one of the construction sites on Chavchavadze Avenue.
The project came under scrutiny from the very beginning, when it was initially announced in 2015. Global NGOs and local environmental activists opposed the idea of constructing a multi-functional complex in the old part of the capital. The project is being implemented by Georgian Co-investment Fund, set up by the former Prime Minister of Georgia, Bidzina Ivanishvili.
According to an interview with one of the Panorama Tbilisi workers, published by Liberali, the injured workers were working on the facade, when they fell from the 9th floor. "I work inside. There are no rules of safety on site. They are murderers, to say it directly. …I don't have any other choice but to work here. I came to Tbilisi from the Adjara region. My mother has been bedfast for 15 years and I work to gain a few coins to buy medicine for her. I'm a slave" – says the worker.
Department Labour Inspection of Ministry of Health conducted an inspection on site and after 3 hours of examination, they have concluded that there were numerous safety violations and the construction of Panorama Tbilisi has been halted.
It has been clear for a long time that the current policies that are in place do little to nothing to protect the livelihood of the workers employed on the construction sites. Effective steps need to be taken in order to ensure that the safety measures are taken into account on the construction sites across Georgia.