The News in Brief
Wednesday, April 17
Georgian government reacts to major Paris Notre Dame fires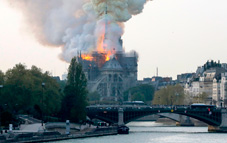 Georgian officers have tweeted that they are shocked by the major fire at the 850-year-old Notre Dame in Paris, which is one of the most famous landmarks of France.
Georgian Prime Minister Mamuka Bakhtadze tweeted that he is "shocked and saddened by the scope of devastation from the Notre Dame's catastrophic fire."
"Our thoughts remain with Paris and France during this difficult time," he said.
Georgian French-born President Salome Zurabishvili was one of the first who reacted to the bad news.
"I am paying close attention to the horrible fire happening at the Notre Dame Cathedral in Paris. Georgia stands with the people of France during this time," she tweeted.
Around 400 firefighters were at the scene to put up the raging fire.
The French government refused to use helicopters in the operation as this could have led to the complete collapse of the building.
The fire began at around 18:30 (16:30 GMT) and quickly reached the roof of the cathedral, destroyed its wooden interior before toppling the spire.
The fire was extinguished nearly after 15 hours after it began.
Firefighters managed to save the Notre Dame's main stone structure, including its two towers.
They also managed to rescue valuable artwork and religious items, including what is said to be the crown of thorns worn by Jesus before his crucifixion, which were stored inside the cathedral built in the 12th and 13th centuries, BBC reported.
A tunic, which King Louis IX is said to have worn when he brought the crown of thorns to Paris, was also saved, the agency stated.
The cause behind the disaster needs to be identified.
French President Emmanuel Macron vowed to reconstruct the historic building and asked for donations.
Two French magnates have already stated to allocate 300 million EUR for the reconstruction works.
(By Gvantsa Gabekhadze )