Natia Turnava visited GeoSteel and Rustavi Steel
By Nika Gamtsemlidze
Wednesdady, May 15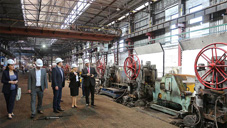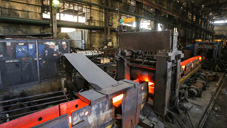 During her visit in Rustavi metallurgical enterprises, the Rustavi Steel and the Geosteel, Natia Turnava, Minister of Economy and Sustainable Development, talked about the importance of the enterprises.
As she said, more than 2000 people are employed in Rustavi Steel, while 500 more work for Geosteel.
"Technological re-equipment is currently underway, including in terms of the introduction of ecological standards," said Turnava while visiting Rustavi Steel.
"Firstly, it is essential for us to see how these enterprises are becoming more energy efficient. We got familiar with specific plans. Both enterprises have begun the re-equipment of the production process and they are updating the technologies in order to consume less electricity," noted the Minister.
As she said, these are leading factories not only in Georgia, but in the region as well. "It is very important for us to stand by their side, they are already very successful in Georgian market but it is important that we help them have access to the international market."
"We have anti-dumping legislation that ensures fair rules of competition and market where consumers will be protected from poor quality analogs," stressed the Minister. Natia Turanava noted that she will visit such factories in the future as well, and discuss the challenges and the ways of solving them.
Since May 1, 2019 a new stage of deregulation of energy market was launched in Georgia. Part of large industrial consumers, including the Rustavi Steel and the GeoSteel, were allowed to buy electricity at market price. It is very important for the environment that they increase their energy efficiency and introduce the new technologies.
Rustavi Steel LLC was established to acquire the assets of the Rustavi Metallurgical Plant in 2011. The Rustavi Metallurgical Plant was established in 1948 as the first fully integrated metallurgical complex in the South Caucasus and produced steel, hot-rolled seamless pipes and various products made of pig iron, aluminum or iron.
The Plant currently exports to the European Union, US, Russian and Middle Eastern markets as well as to Armenia, Azerbaijan, and Turkey.
On the other hand, GeoSteel represents one of the largest direct foreign industrial investments in Georgia.