President of the National Bank of Georgia meets with the representatives of Business Association of Georgia
By Nika Gamtsemlidze
Wednesday, May 15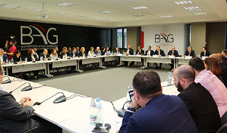 The President of the National Bank of Georgia, Koba Gvenetadze, met with representatives of the companies of Business Association of Georgia on May 13.
During the gathering, which was initiated by the National Bank of Georgia, Gvenetadze presented the key topics which interest the business representatives.
New laws were also discussed, as the president of NBG said, the new laws were adopted to ensure the safe environment for people. According to him, the regulations are crucial for the consumer protection and promotion of healthy credit portfolio in commercial banks.
According to Gvenetadze, the National Bank continues to monitor the ongoing processes by gathering information and analyzing statistical materials. After which, if necessary, some changes can be made, but the basic principle of regulations will be maintained.
"We have constant communication with financial organizations, commercial banks, microfinance organizations and meetings with individual sector representatives to determine what can be done in terms of technically simplifying the provision to make it more flexible. Consequently, this dialogue will continue, and if the changes are needed, we will implement these changes. Considering this, I have to say, that the new law regarding providing loans according to the solvency of the borrower will not be changed," said the President of NBG.
Koba Gvenetadze answered the participants' questions and noted that such meetings with business associations, which will be held periodically, are significant for establishing proper expectations for businesses and for making adequate decisions.