100 000 GEL Co-Financing Grant Program event held in Tech Park
By Nika Gamtsemlidze
Thursday, June 6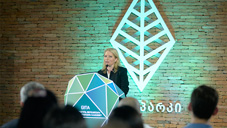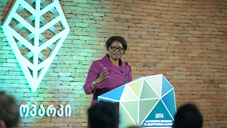 GEL 100 000 grant co-financing program was announced by the Innovations and Tech Agency of the Ministry of Economy and Sustainable Development. The special event was held at the Tech Park.
The program is implemented by the Innovations and Technologies Agency with the support of the World Bank's National Innovation Ecosystem Project (GENIE). The program aims to stimulate the creation of innovations and innovative enterprises through the development and commercialization of innovative products and services of international potential in Georgia.
The event was attended by the Minister of Economy and Sustainable Development of Georgia, Natia Turnava, as well as the World Bank's Regional Director for the South Caucasus, Mercy Tembon.
Turnava opened the conference. In her speech, she emphasized the importance of the program and the vision of the government regarding the development of innovative projects.
"This program is aimed at revealing people with innovative ideas, who are ready to cross the borders of Georgia, to develop their ideas and introduce Georgia on the global market. They are also ready to make a small contribution by themselves, and the state is ready to make a lot more financial contribution," stated the Minister of Economy and Sustainable Development.
In her welcoming speech, Turnava thanked the World Bank for their support and expressed her gratitude to Mercy Tembon for her personal contribution. According to the Minister, the World Bank supports various structural, economic, and social reforms, including the innovative ecosystem development project, which was already financed with GEL 100 000 co-financing grant for the third time.
According to the Minister, a total of 37 projects were financed in the previous two years. "For a small country like Georgia, 37 innovative ideas are a lot. It is also crucial that we have two different programs – one, for those who are just starting their business, the grant for them is GEL 100,000. On the other hand, for high-tech companies, at higher levels of development, a grant of GEL 650,000" stressed the minister.
Mercy Tembon also addressed people attending the meeting, as she said, "young people participating in the competition have brilliant ideas and vision on how to address the problems in the country. I am delighted that we have been able to implement this program, because three years ago, when we started the program, nobody expected it would have been so successful."
"I want to say to the general public that this is a great opportunity that the Government of Georgia, through the Ministry of Economy, has given to young people, to put their brilliant ideas to the table and to dream, and dream big for Georgia and make sure that their dreams will become true," noted Tembon.
Co-financing grants are one of the most common tools of funding, which is used to support innovations in developed, as well as developing economies. In the framework of the GENIE project, co-financing grants are allocated for startups and two–year private, small enterprises.