Public officials react to Putin's false statements on Georgia's history
By Levan Abramishvili
Friday, July 12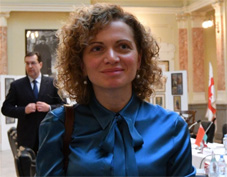 Georgian politicians and international public figures made several statements regarding Putin's views of Georgian history.
A few days ago, Russian President Vladimir Putin, told Russian journalists that "After World War I, Georgia attempted to engulf Abkhazia. An independent Georgian state was formed that occupied Abkhazia in 1918, assisted by the German troops."
As for the Tskhinvali region, Putin said that in 1919-1920 Georgia was responsible for the genocide in so-called South Ossetia.
Putin also stressed that Georgian politicians should not forget history.
Minister of Internal Affairs, David Zalkaliani, described the statements of the Russian President as "an example of presenting historical facts wrongly, subjectively and with bias."
"Russian officials' statements like these are no novelty to us. They are based on erroneous facts and are put in the wrong context," noted Zalkaliani.
He also stressed that the international community is "perfectly aware of the real situation and the historical facts," which is the reason why the entire international community recognizes Georgia as a united, sovereign and territorially integral state, including Abkhazia and the Tskhinvali region.
As for the historical past, Georgia's centuries-long history is vast evidence confirming that both Abkhazia and the Tskhinvali region have been part of Georgian territories since ancient times.
"If we want to look back at history, we should let historians do that. As the government, we must do our utmost to take steps towards de-escalation and de-occupation," stressed the Minister.
According to him, the position of the Georgian Government is unaltered and it remains committed to peaceful resolution of the conflict, in particular, within the format of the Geneva International Discussions where "the fact that the territorial integrity of Georgia is recognized by the international community and the necessity to comply with all international norms and obligations" are the main themes running throughout the meetings.
The Chairperson of the Parliament of Georgia, Archil Talakvadze also talked about this matter in an interview with the media, as he said, "nobody can change or rewrite Georgian history."
He also noted that "one day, illegal occupation of Georgian territories will see its end."
"No one can change or rewrite the history of Georgia. We are proud of our history and territorial integrity of Georgia, and our borders are recognized by the international community in the principles of international law," noted Talakvadze.
As he said, statement of representatives of Russian Federation cannot change the integrity and history of Georgia, "our views towards occupation remain unchanged, Georgian territories are illegally occupied, and it will come to an end."
As he noted, to end the occupation, the country needs economic development, educational reforms, strengthening security, active cooperation with our partners and integration into the Western family. "This is our government's vision and pragmatic foreign policy," noted the Speaker.
As Claudia Roth, Vice-President of the German Bundestag said, the main message towards Georgia is that "they are not alone."
Roth made comments at the Batumi Conference, "I'm saying this as a German, what I felt during the meeting with IDPs was a huge responsibility to support Georgia, and not forget that Russia occupies 20% of its territories."
As she said about Putin's remarks, "Russian President is the one who needs to remember the history."
According to Ruth, "we need to be more active." As she said, young people around the world are fighting for "their rights; they are out in the streets to protect the environment, climate, they want democracy, they need freedom. So, we need to work more, we need to get closer with one another, and this is not only Georgia's interest, it is very important for us as well."
Tamar Khulordava, MP, wrote on her personal Facebook page, Georgia's borders are recognized by the international community and in this case, questioning Georgian borders "is not the only problem of our country."
"Is Putin's position new for anyone? Do not let Russia drag us in this very dangerous game. The international community recognizes Georgia's borders. Questioning internationally recognized borders is not a problem only for Georgia. This threatens international order across the continent. We know what the truth is. Our partners know it as well," wrote Khulordava.
According to one of the leaders or opposition, David Bakradze, Russia tries to justify their actions, "and to destroy our future by falsifying history."
As Bakradze says, it is necessary for Georgian authorities to voice a clear position regarding Putin's statement and not "be limited to general statements."
The only weapon against incorrect statements of Putin and his attempts to falsify history is knowledge of facts, which speak for themselves and say that the territories that Russia has occupied are an integral part of Georgia, as they have always been.