Nominee for Interior Minister presents his program to MPs
By Tea Mariamidze
Friday, September 6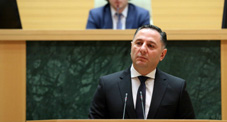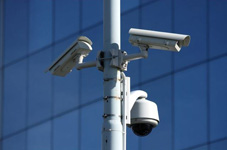 A candidate for the Interior Minister Vakhtang Gomelauri, who used to occupy the post of chief of the State Security Service of Georgia, says around 5,000 cameras will be installed in the near future across the country.
In his speech delivered before the MPs on September 5, Gomelauri spoke about his program which will be implemented in case the parliamentarians support his candidacy, presented by the ex-Minister of Internal Affairs, Giorgi Gakharia, who was nominated as the Prime Minister of the country a few days ago.
"This is very important for security, for fighting crime, for opening a case, and also for preventing crime, and we will try to do this in every city throughout Georgia. Almost 40% of the 5,000 cameras are so-called smart cameras that detect the number of the vehicle and face of the driver. This is a very important and a very serious project for our country," he said.
Gomelauri also said that construction and rehabilitation of police infrastructure will continue throughout the country.
He noted that the Ministry is actively developing new digital products for the police that will significantly increase the availability of police services and enhance cooperation between the public and the police
"The most important priority for the Ministry of Internal Affairs is an effective fight against crime. That is why the Ministry of Criminal Police reform is underway, which involves separating investigative, field and operational directions, enhancing the quality of investigations and introducing community-oriented policing," he said.
According to Gomelauri, investigative and operational functions of the police have been divided in the Central Criminal Police Department, adding this process will continue and the separation will take place throughout Georgia.
"An anonymous messaging platform will be introduced where a person who possesses any type of crime or planned crime, using the Internet, without disclosing personal information, will provide this information to the relevant units," he added.
The candidate believes that this is a very important novelty because people avoid providing the information they have about the crime to the police because they want to stay anonymous.
According to Gomelauri, a joint operations center and 112 will also be united across the country.
"To increase the quality of response to incidents, it is also planned to establish a feedback system with the call initiator, which will evaluate the police service process and quality of the service," he said.