Zourabichvili: Domestic violence is a new phenomenon in Georgia
By Tea Mariamidze
Friday, September 6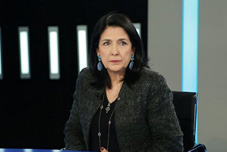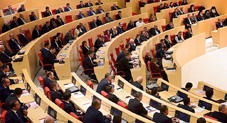 Georgian President Salome Zurabishvili says that domestic violence is a new phenomenon in Georgia, adding Georgian women played a very important role in the history of the country.
In her interview with Le Figaro media outlet, when asked about the domestic violence, Zurabishvili said it is a new phenomenon in Georgia.
"It is mainly connected to the fact that men do not want to lose their "rank." This is also reflected in the Georgian economic immigration: mostly women immigrate and send their salary to men who remain in the country," she stated.
In response to the opinions that Georgian society was very conservative for a long time, and that women stayed at home, the president said these are stereotypes.
She said it is noteworthy that Georgia was converted to Christianity by a woman and that during the Georgian Renaissance and the Golden Age, the country was ruled by a woman called the "King."
"All of this has had a huge impact on the relationship between men and women… Everyone was employed during the Soviet period. Women became even stronger after the collapse of the Soviet Union. As for men, they had the mission of defending the country earlier, and they were trying to get back their role," she said.
Zurabishvili noted that after the collapse of the Soviet Union, women took over the country's destiny and adapted to the reality of industrial breakdown.
"Georgia was then lost, without a strong economy, standing in front of the world which was opening its door," she added.
When talking about the low activity of Georgia women in politics, the president said that the number of women in parliament is not impressive and they amount only about 15% of MPs.
"In my opinion, the lack of women in parliament is further explained by the fact that politics is not yet an attractive field for women. For a Georgian woman, medicine, working in an international organization or law are more attractive fields than fighting in politics. Nevertheless, the Georgian government still has five female ministers," she told Le Figaro.
According to the report of Georgia's Public Defender Nino Lomjaria, in 2018, 205 restraining and 130 defensive orders were issued following violence against women. Also, 22 women were killed and 18 cases of the attempted killing of women took place in Georgia in the same period and seven of these cases were counted as domestic crimes. In the same year, 18 cases of attempted murder of women were revealed, of which
10 were related to the attempted murder of women by their husbands.