New charges against the former director of Rustavi 2
By Nika Gamtsemlidze
Monday, September 9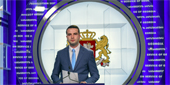 Prosecutor's Office of Georgia brings new charges to Nika Gvaramia on the case of Rustavi 2. New charges were also filed against the former financial director of Rustavi 2, Kakha Damenia and the director of the "Intermedia Plus", Zurab Iashvili.
The new charges include the embezzlement of large amounts of Rustavi 2 property. Gvaramia, Damenia, and Iashvili were summoned to prosecutor's office on September 6.
During the special briefing of the Prosecutor's Office, it was announced that Damenia is accused of violation of a large number of property rights of Rustavi 2, while Iashvili is accused of commercial bribery and production of official documents, which caused significant damage.
Journalists of the Main Channel and one of the leaders of the party European Georgia, Gigi Ugulava, visited the General Prosecutor's Office of Georgia while Gvaramia was summoned there. They call Gvaramia's summoning to the prosecutor's office another barrier created by the government, which they say is aimed at suppressing alternative opinion and media pluralism.
After leaving the Prosecutor's Office, Gvaramia told reporters that there was nothing new in the accusations and he also linked ongoing investigation to the opening of his new company, the Main Channel, which started broadcasting today.
According to Gvaramia, he does not exclude the possibility of his detention. "I expect everything, of course. I do not find it problematic or unexpected for this government to arrest me or others," noted Gvaramia.
As Minister of Regional Development and Infrastructure of Georgia, Maya Tskitishvili noted, she does not think that the charges have to do anything about the establishment of Gvaramia's new company and said that even though she is not yet aware of the new charges, "I generally do not share the view that it is a political fight against Gvaramia as a representative of media."
As Gvaramia's lawyer, Dimitri Sadzaglishvili, told reporters, "the case does not have a legal side; the government is trying to neutralize the Main Channel with the help of the Prosecutor's Office."
According to Sadzaglishvili, the authorities have two reasons, one to hinder broadcasting of the Main Channel and the other to make Gvaramia responsible for the bankruptcy of Rustavi 2. As Sadzaglishvili noted, both goals of the government will remain unfulfilled.
According to the chairperson of the Human Rights and Civil Integration Committee, Sopio Kiladze, lately, many people are trying to hide behind the media and politics to avoid justice. As she noted, "if there are signs of a crime, it should naturally be followed by legal steps."
It is also noteworthy that the deadline for payment of the bail of 40 thousand GEL imposed to Gvaramia expires on September 10, though Gvaramia once again noted that he is not going to pay the bail.
A few days ago, it was announced that the new company established by Gvaramia, the Main Channel, would start broadcasting from September 9.