Deputy Economy Minister inspects works and projects carried out by Georgian Manganese
By Nika Gamtsemlidze
Monday, October 7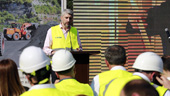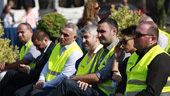 Deputy Minister of Economy and Sustainable Development Nikoloz Alavidze inspected the works and projects carried out by Georgian Manganese in recent months, familiarizing himself with the report presented by the company along with the other representatives of the government.
Along with Levan Davitashvili, Sozar Subari, Nikoloz Alavidze and Imereti State Representative Zviad Shalamberidze, the head of Technical and Constructions Supervision Agency, Davit Gigineishvili and the head of the National Agency of Mines (NAM), Maia Zavrishvili were also present in Chiatura.
The company took responsibility for the work and projects in May when a government-sponsored mediation process took place between the company and employees.
"We are here today to review the process of fulfilling the company's commitments, which were set within a specific timeframe, with a specific plan. Everything we checked is done very well so far, I would say they even did more than I expected. It is a very positive process and reaffirms the high standards of Corporate Social Responsibility by Georgian Manganese and we are all very happy because of it," said the Deputy Minister of Economy and Sustainable Development.
Members of the government inspected a new railway line, a warehouse, company-re-cultivated areas, as well as ongoing works under the Chiatura Cleaning Project and a new manganese ore processing plant at Nofi.
Other social activities the company has undertaken in the last three months include increasing salaries for its employees - Georgian Manganese has already increased its salaries by 25%. The catering company has also changed, with the food being constantly monitored by employees. It is noteworthy that the company started the construction of a new clinic in Chiatura to provide affordable medical services. The company also renovated Public School #1 and participated in the renovation of the Rgani (village in the Chiatura region) School.
It is noteworthy that Georgian Manganese, together with the local municipality, has started a cleaning project in Chiatura and is carrying out daily activities. Since September 1, the movement of heavy vehicles has been restricted on the territory of the city. Besides, in every area where heavy-duty vehicles load with manganese, 8 car washes (so-called shutters) were arranged. The company has purchased 8 special vehicles for street cleaning and washing - special equipment for daily cleaning of Chiatura and Zestaponi streets.
As Alavidze noted, "all this represents a great example for everyone and other big companies will take this experience and try to implement the same high standards themselves, which will greatly contribute to the development of the country's economy."
The Georgian Manganese Holding is the Georgian subsidiary of the British company Stemcor, producing manganese and ferroalloys. The Georgian Manganese Holding owns JSC Ferro in Zestafoni and Chiaturmanganumi in Chiatura.