First change in Russian-Georgian air traffic since the July 8 ban
By Tsotne Pataraia
Friday, October 18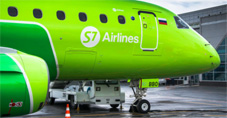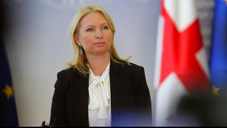 On October 16 a document issued by the Federal Air Transport Agency ("Rosavatsia") website authorized Siberian Airlines (S7 Airlines) to operate direct flights from Moscow to Kutaisi. Russian airline has been given consent from the state agency to conduct 7 flights a week. There was no announcement about the planned flights.
The Georgian Civil Aviation Agency claimed that there was no communication with Russian counterparts about the restoration of flights at this stage, nor did they apply to the airlines.
However, on October 17 Russian Federal Air Transport Agency ("Rosaviatsia") denied that air travel with Georgia had resumed.
A spokesperson for "Rosaviatsia" told the Russian news agency RBC that Siberian Airlines had only received permission and would begin operating after officially restoring air traffic.
The Minister of Economy and Sustainable Development of Georgia Natia Turnava responded to the issue. After a cabinet meeting she told reporters that the decision of Russian official circles to restore direct air traffic between Georgia and Russia is only a step forward:
"You know my attitude towards this issue. We have repeatedly said that we are only welcome if Russian official circles revise the decision and restore direct air traffic between Georgia and Russia" she said.
Turnava also commented on the uncertainty caused by the spread of different information from different sources. Minister has confirmed that the decision does not mean the restoration of direct flights, as Georgia has not received any official note about it:
"Whatever you name it, it was reported on Russian media. So far, this has not meant restoring flights. There are a number of formal procedures for this, and our Air Administration has not received any notification that flights have been restored. Therefore, I cannot confirm that this is a resumption of flights, but I repeat - we are welcome if this decision is made," said the minister.
Both Georgian Foreign Minister David Zalkaliani and his Russian counterpart Sergey Lavrov stated earlier this month that direct flights between Georgia and Russia is acceptable for both countries and should be restored as it is beneficial for both countries
Since July 8, direct flights between Georgia and Russia have been suspended. Russian President Vladimir Putin signed an order on June 21 stipulating that Russian airlines be banned from flying to Georgia. Russia has cited the lack of security for Russian citizens in Georgia as a pretext for stopping air services. Vladimir Putin's decision followed the events surrounding Sergey Gavrilov's visit to Georgia.
On June 20 it became known that the sitting of the Inter-Orthodox Parliamentary Assembly in the Georgian Parliament was led by the Communist MP of the Russian Duma Sergey Gavrilov. The session was canceled because of the protests, and the Russian delegation was forced to leave Tbilisi.