Chair of Lietuva Committee on Foreign Affairs meets ruling party and opposition to discuss the crisis
By Veronika Malinboym
Monday, February 22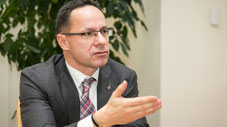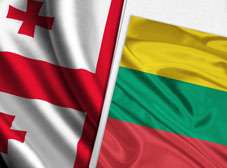 On February 20, Zygimantas Pavilionis, Chair of the Lietuva Committee on Foreign Affairs, held meetings with the ruling Georgian Dream party and the United National Movement opposition party to address the ongoing political crisis.
Ahead of his arrival to the country, Zygimantas Pavilionis announced that his visit to Georgia would be aimed at meeting "friends from political spectrum" in order to "build bridges, heal common wounds and build common future in the EU and NATO." In his Twitter post, Zygimantas Pavilionis reinstated that "Lithuanians have never abandoned Georgians, not even in the darkest hour".
Earlier this week, the Baltic Times reported that the Board of Lithuanian Simas held an emergency meeting in which it has been decided to send Zygimantas Pavilionis in order to help the country find a way out of the current political deadlock. The media outlet also cited Zygimantas Pavilionis saying that he has some personal input in the country already, as, during the presidential term of Valdas Adamkus, Pavilionis was responsible for leading the Georgia group in the past Seimas. The politician then went on to say that he has friends on both [political] sides and will do his best in order to restore peace berween them.
Upon his arrival to Georgia, Zygimantas Pavilionis met with the chair of the parliamentary committee of foreign relations, Maka Botchorishvili, as well as the chair of the parliamentary group of the EU integration, Nikoloz Samkharadze. He also spoke with the leader of the opposition United National Movement party, Nika Melia, who tweeted shortly after the meeting:
"Either Georgia goes with the Lithuanian way or it turns into Belarus. When we were entering the EU and NATO, left and right always worked together. We never imprisoned anyone. If repressions and conflicts continue, Georgia's chances are killed".
The current political crisis was caused by the recent Tbilisi court ruling which sentenced Nika Melia to be kept in custody as a result of his refusal to post the bail for his release. The Georgian Ministry of Interior then went on to temporarily postpone Melia's arrest amidst the resignation of the Prime Minister Giorgi Gakharia who claimed that such a decision was caused by his inability to come to an agreement with a ruling party on Nika Melia's case. Lithuanian Foreign Ministry is calling both the authorities and the members of the opposition to abstain from any actions that can cause further "division of the society" and refrain from "using force against the citizens."