Opposition Lelo and European Georgia parties demand PM Garibashvili's resignation
By Veronika Malinboym
Monday, March 8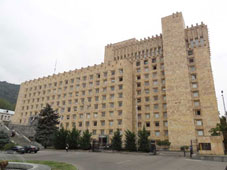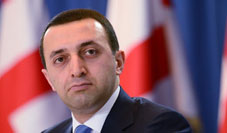 Leader of the opposition Lelo for Georgia party and co-founder of the TBC Bank Mamuka Khazaradze recently released a statement in which he called for the immediate resignation of the newly appointed Prime Minister Irakli Garibashvili as well as the head of the Special Service of the State Security, Anzor Chubinidze.
The statement came shortly after the Pirveli TV Channel has claimed to have acquired a secret audio tape in which one can, allegedly, hear Bera Ivanishvili and PM Garibashvili (son of the former prime minister and founder of the ruling Georgian Dream party, Bidzina Ivanishvili) discussing the possible punishments of the individuals who criticized the current government.
"Lelo demands an immediate investigation of the facts mentioned in the audio tape and ensure that the investigation is conducted in partnership with the relevant, reputable international investigation agencies. In order to make sure that the investigation is put under no external pressure, we demand an immediate resignation of the Prime Minister Irakli Garibashvili, as well as the Head of the Special Service of State Security, Anzor Chubinidze. As of right now, Lelo is not going to participate in any negotiations that the PM Garibashvili will be joining," read Mamuka Khazaradeze's statement.
Similarly, shortly after the TV Pirveli aired its coverage of the 'secret tape', leader of the opposition European Georgia party posted on his social media and called for an immediate resignation of the acting prime minister:
"Before the early elections are finally held, this [unpleasant] person who calls himself a prime minister, must leave", Ugulava posted.
One of the members of the opposition United National Movement party, Zaal Udumashvili, also commented on the TV Pirveli investigation. He said that the only thing that the "tape" shows is that the people who are currently in power "are no better than the members of street mafia gangs."
"Those tapes contain some signs indicating a serious crime. I believe that the investigation into them must be launched as soon as possible. Meanwhile, those individuals who appear on the tapes should resign before the investigation results are released", said Zaal Udumashvili.
Georgian Public Defender Nino Lomjaria also addressed the issue of released tapes. On her Facebook page she posted that for many years now, Georgian public has been calling for the timely and efficient investigation of some of the illegally obtained and released tapes:
"For many years now, it has become a normal practice in Georgia to illegally obtain, or even fabricate various tapes for the purpose of discrediting or harming the political opponents on various levels. For many years now, the general public has been calling for the timely investigation to be launched by the country's judicial institutions, and for the adequate treatment of those responsible for obtaining or producing such tapes. Unfortunately, none of such cases have been investigated properly, which makes every citizen of this country vulnerable to such practices", Lomjaria wrote.