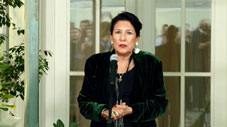 The President of Georgia, Salome Zourabichvili, hosted a reception for the representatives of the ethnic minority living in Georgia at the Orbeliani Palace within the framework of the campaign "Our Voice for Europe."
(more)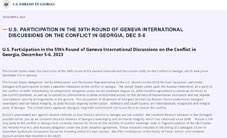 The United States called upon the Russian Federation to promptly fulfill its obligations under the EU-brokered ceasefire agreement of August 12, 2008, by withdrawing its forces to pre-conflict positions.
(more)
"Klaar Highlights Tamaz Ginturi's Murder by Russian Occupying Forces as Main Focus in Geneva Negotiations"
(more)
Along with the recommendation of the EU candidate status from the European Commission, Georgia received 9 enforceable reservations, among which special importance is attached to the fair holding of the 2024 parliamentary elections.
(more)