Polish media activist Adam Michnik —- who played a role in negotiating Imedi TV's return to air —- founded a media monitoring group on December 13 to keep an eye on journalism in Georgia.
(more)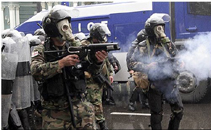 The ruling party MP in charge of civil rights issues is demanding an investigation into what she says is the illegal use of rubber bullets to disperse anti-government protestors on November 7.
(more)
In an attempt to draw international attention to alleged infringement of voting rights in the Abkhazian conflict zone, Besik Kolbaia, an ethnic Georgian from the Abkhaz-controlled district of Gali, has begun a protest walk from the secessionist region's administrative border to Tbilisi.
(more)