Court orders CEC to grant soldiers' voting rights
By Messenger Staff
Tuesday, December 18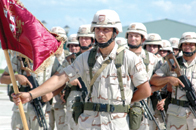 A Tbilisi court ruled on December 17 that the Central Election Commission (CEC) must allow Georgian soldiers deployed abroad to vote in the upcoming presidential election.
The ruling party took the case to court after the CEC, split down partisan lines, decided on December 11 not to allow the approximately 2000 Georgian soldiers serving in Kosovo and Iraq to vote in the January 5 election.
Ruling party representatives blasted the decision as one intended to strip votes away from their presidential candidate, incumbent Mikheil Saakashvili.
"Yesterday's decision was made for one reason only, so that presidential candidate Mikheil Saakashvili will lose 2000 votes," stated Davit Bakradze, a state minister and spokesman for Saakashvili's campaign, at a December 12 press conference. Bakradze said that most military service personnel support Saakashvili.
Human Rights Ombudsman Sozar Subari also criticized the opposition-led move to bar the Georgian soldiers from voting, according to the news agency Prime News.
The six CEC votes against the proposal, which would have allowed the soldiers to cast ballots on January 5, came from opposition party representatives. The other seven commission members are ruling party and government appointees.
The proposal needed nine votes to pass.
CEC member Zurab Marakvelidze, an appointee from the opposition Republicans, explained his decision by pointing to a constitutional provision which cancels elections in a situation of martial law.
The provision in question, under Article 70 of the constitution, specifies that "no election shall be held in case of a state of emergency or martial law."
Tbilisi City Court ruled that clause applied only to a state of emergency within Georgia. The ruling is expected to take force immediately.