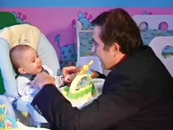 Presidential candidate Badri Patarkatsishvili postponed his return to Georgia yet again on December 20, the same day his campaign team released a video statement calling for support.
(more)
International NGOs have highlighted Georgia's "shaky" human rights record and "troublingly authoritarian" government actions as cause for concern in two reports on the November 7 crisis, released this week.
(more)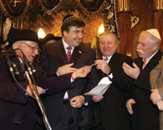 Profile: Badri Patarkatsishvili
(more)
Cartoonist V. Shioshvili's take on the week's events.