Embattled Georgian tycoon drops presidential bid
Messenger Staff
Friday, December 28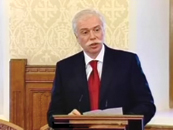 Billionaire presidential candidate Badri Patarkatsishvili, accused of plotting a violent coup in January, has withdrawn from the race.
In a statement released yesterday evening, Patarkatsishvili gave few details for his decision, saying only that he is pulling out at the request of other opposition candidates and that he would keep his promises to the Georgian people.
The surprise announcement evidently came as a shock to even Patarkatsishvili's supporters; a Tbilisi branch campaign office, contacted for comment just minutes before evening news programs broke the story nationwide, said they had not heard anything about his decision to leave the race.
Patarkatsishvili's withdrawal comes a day after staff of Imedi TV, which he founded, announced that, due to the political confrontation between the government and the tycoon, they would suspend broadcasts until Patarkatsishvili sells his remaining stake in the station or otherwise clears up questions remaining about its ownership.
Giorgi Targamadze, the prominent political programs director at Imedi, told the
Messenger
Imedi TV will stay off-air for now.
"[Patarkatsishvili's decision to quit the race] is good, it will alleviate the heavy situation," Targamadze said. "But of the two factors [behind Imedi staff's decision to strike], the [ownership factor] has the crucial role regarding Imedi's resumption."
The announcement comes days after authorities accused Patarkatsishvili of plotting a violent coup to follow the January 5 election.
A secretly taped conversation allegedly documents Patarkatsishvili offering top Interior Ministry official Irakli Kodua an enormous bribe to denounce the results of the election as rigged, and to "neutralize" the Interior Minister while paid agitators take to the streets.
Patarkatsishvili has dismissed the tape as a government frame-up, saying he was trying to pay off Kodua to prevent another violent crackdown on protestors.
Conservative MP Kakha Kukava, of the nine-party opposition coalition, welcomed Patarkatsishvili's decision to leave the race but denied his campaign had any hand in it.
"It is [Patarkatsishvili's] own decision [to withdraw]…but we think it will be good for the political situation, because this style [of confrontation] between Saakashvili and Badri Patarkatsishvili is very dangerous for Georgia," he said.
One is trying to rig the elections, Kukava claimed, while the other suggested he might try to use force to overthrow the government.
He said that if the opposition coalition wins the elections, they would still be willing to accept donations from Patarkatsishvili to the state budget, but only through legal, transparent routes.
Patarkatsishvili promised more than USD 1 billion in social aid if he won the presidency.
"It's a reasonable decision [to withdraw]," Kukava added, "but it would be better if Saakashvili does the same."