With Imedi TV off-air, opposition candidate slams remaining networks for alleged bias
By Christina Tashkevich
Friday, December 28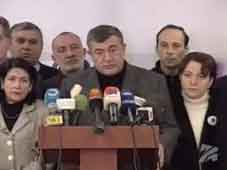 Presidential candidate Levan Gachechiladze angrily attacked the Rustavi 2 and Mze TV networks at a press conference yesterday, demanding that they stop playing "dirty games."
Gachechiladze, the joint candidate of the nine-party opposition coalition thought to be the top challenger to incumbent Mikheil Saakashvili, harshly criticized both networks for an alleged bias in their coverage of the election campaign.
"I feel like I'm being interrogated," Gachechiladze said after being pressed on his campaign's connections to tycoon Badri Patarkatsishvili, who is suspected of plotting a violent coup.
The candidate suggested that the two television networks have been trying to "associate" him with Patarkatsishvili; the opposition coalition has previously confirmed that its representatives met with the tycoon at his London residence earlier in the month.
Gachechiladze promised to reveal "many things" about Rustavi 2 and Mze TV stations should he come to power in January.
Both networks share the same owners, Georgian Industrial Group and GeoMedia Group. The brother of Foreign Minister Gela Bezhuashvili has a stake in Georgian Industrial Group; the ownership of GeoMedia Group is not publicly known.
"We're not threatening," he hastily clarified. "Simply, Rustavi 2 and Mze interrogate us like they're prosecutor's office."
Gachechiladze has previously asked Rustavi 2 and Mze journalists to leave a press conference with Russian news organizations for their perceived bias, though coalition representatives later claimed it was because the format was for Russian media only.
Eka Kvesitadze, a member of the recently-created media council, later told journalists that Gachechiladze has problems communicating with the media.
"First of all, if he wants enter politics, he must learn how to communicate with media," she said, adding Gachechiladze should be ready for any questions.
Gachechiladze's political career dates back nearly a decade.
At another news briefing yesterday, the opposition coalition asked the media council to review a Rustavi 2 report which, they say, intentionally misinterprets a promotional clip for Gachechiladze.
"This would be a test [for the media council], which they either pass or not. Therefore we demand an immediate evaluation," coalition representative Tina Khidasheli said.
Rustavi 2 and the lesser-watched Mze are the two largest private television companies still on air, after Imedi TV staff decided to suspend broadcasts until founder Badri Patarkatsishvili sells his stake in the station.
Yesterday evening, Rustavi 2 aired an address from Gachechiladze in which he labels those two stations, plus the state-owned broadcaster, as pro-government tools working against his campaign.
He predicts that the broadcasters will not let him finish his speech, then calls on viewers to gather for a rally in central Tbilisi on December 29.
Rustavi 2 then cuts him off in mid-sentence, and the anchor explains they are not allowed to air calls to action.