Tbilisi gets concerts, ice rink for New Year's gifts
By Anna Kamushadze
Friday, December 28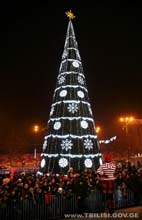 For celebrating New Years', you could do worse than Tbilisi.
The Ministry of Culture is promising celebrations and festivities across the capital, mostly in the Gldani and Varketili parks, at the Tbilisi Zoo and in front of the parliament building on Rustaveli Avenue.
A ministry spokesperson said that since December 25, markets have been set up in those four areas, with concerts and theater performances being held from noon until late evening every day.
Gipsy Kings are scheduled to perform a free concert in Freedom Square on December 31.
Tbilisi Mayor Gigi Ugulava said this year's celebrations would be bigger and grander than years past.
"Rustaveli Avenue and the area surrounding parliament are exceptionally beautiful. There is an ice rink for kids… Tbilisi will ring in 2008 decked out beautifully and marvelously," Ugulava told journalists.
The small ice rink is a conspicuous addition this year. It is set up in front of the parliament building, leaving little room there for any rallies or demonstrations.
A feverishly contested snap presidential election will be held January 5. The decorations, including the ice rink, will come down on January 7.