Five more years?
By Christina Tashkevich
Friday, December 28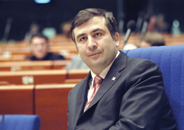 Profile: Mikheil Saakashvili
This is the fifth in the Messenger's series of profiles of the seven presidential candidates.
Biography
Name: Mikheil Saakashvili
Party: United National Movement
Date of birth: December 21, 1967
Place of Birth: Tbilisi
Education: Tbilisi Secondary School 51; Kiev State University School of International Law; Columbia University; George Washington University National Center of Law
Languages: English, French, Russian, Ukrainian
Spouse: Sandra Roelofs
Children: Two sons, Eduard and Nikoloz
Mikheil Saakashvili, swept into power four years ago embodying the highest of hopes and expectations, is days away from his greatest political challenge—and one of modern Georgia's most important tests.
Whether or not he wins a second term as president in the January election, called nearly a year early to shore up his tattered standing after civil turmoil in November, Georgia's third president has determined the course of the country for years to come.
Precocious and ambitious
Saakashvili was born into the ranks of the Georgian intelligentsia, the eldest of three boys. His father, Nikoloz Saakashvili, is a physician; his mother, Guili Alasani, a historian.
"He was always the winner," Darejan Gogokhia, one of Saakashvili's former schoolteachers, recalled. "Everybody respected that boy. He was so polite, and worked so hard."
The young Misha, as he has always been called, wrote poems and excelled in school.
Saakashvili went to university in Kiev; after becoming president, he would repeatedly praise his years in Ukraine. The Ukrainian president, Viktor Yushchenko, is now the godfather of his second son, Nika.
In 1993, Saakashvili won the Edmund S. Muskie scholarship, a program designed in part to inculcate young professionals from newly-independent states with American education and values. The scholarship sent him to Columbia University to study law; he later continued his studies at a doctorate level in Washington, D.C.
He met his Dutch wife-to-be Sandra Roelofs in France in 1995, studying at the International Institute of Human Rights. They soon moved together to New York, where Saakashvili joined the Patterson, Belknap, Webb and Tyler law firm.
"After nightfall he was likely to be found either at the Metropolitan Opera or cheering for the New York Knicks at Madison Square Garden," a post-Rose Revolution article in The New York Times said.
Recruited to return
While working in New York, Saakashvili was asked by Zurab Zhvania, who was on a mission to bring bright young Georgians into national politics, to return to Georgia.
In 1995, Saakashvili won a seat in parliament with then-president Eduard Shevardnadze's Citizens' Union of Georgia party. The young lawyer was swiftly elected chair of the parliamentary Legal Affairs Committee.
The rising political wunderkind became parliamentary leader of the party in 1998; in 2000, Shevardnadze appointed him Minister of Justice.
Saakashvili took the post pledging to fight rampant corruption in the state—a task he again undertook, with more success, when he ascended to the presidency.
His efforts to clean house as Justice Minister were stymied by a culture of permissiveness and mutual protection in the upper echelons of the state; he once slapped down documents on the table at a government meeting, saying they were proof of corruption schemes involving several ministers. Shevardnadze, however, did not get rid of the officials.
A move to the opposition
Saakashvili's rising disappointment with Shevardnadze's government was enough to eventually burn down bridges. In 2001, he resigned as minister and left the Citizens' Union, forming his National Movement party and making a run for the Tbilisi City Council.
He won a seat and, after some backroom wrangling with Labor leader Shalva Natelashvili, was elected chairman of the council. The post was to be a platform for his opposition campaign.
Two years later, he again ran for parliament; this time as the head of the National Movement and with an uncompromising "Georgia without Shevardnadze" campaign slogan.
The government's preliminary results from the November 2, 2003 parliamentary elections put the Citizens' Union in first, and Saakashvili's party second. Saakashvili immediately denounced the elections as rigged, and began to gather popular support for mass protests.
Those protests in the capital were not spontaneous. Saakashvili had laid the groundwork eighteen months in advance in tandem with the local Liberty Institute NGO, and with backing from US democracy-promoting organizations and George Soros' Open Society Foundation.
The demonstrations continued throughout November, led by Saakashvili, Zhvania and then-parliamentary speaker Nino Burjanadze. Day and night they urged on the crowd on Rustaveli Avenue, declaring that there is "no going back," and calling for full-scale civil disobedience.
The charismatic Saakashvili became the foremost face of the revolutionary leadership, greeted with chants of "Misha, Misha" on the streets that autumn.
A revolutionary
The protest culminated on November 21, when the Central Election Commission revealed the official election results: Shevardnadze's Citizens' Union were the victors, with Aslan Abashidze's Revival Party second and National Movement third.
"If Shevardnadze wants a revolution, he will get a revolution," Saakashvili declared in response to the results, which were widely acknowledged as rigged by international observers.
The next day, the world's media showed live footage of a swarm of protestors storming the parliament building, Saakashvili leading the charge with a red rose in his hand.
Within moments, Saakashvili reached the podium as Shevardnadze's personal guard whisked him away. Shouting words of victory, he famously took a swig of Shevardnadze's tea.
Shevardnadze resigned the next day, bringing an end to what would later be dubbed the Rose Revolution.
"I want to say that the era of one-man government should come to an end," Saakashvili later said as he campaigned for 2004 presidential election which would seal the revolutionary's legitimacy.
On January 4, 2004, Saakashvili was elected president with an astounding—but internationally verified—96 percent of the vote, taking his oath of office at the monument to Davit the Builder.
Canadian journalist Mark MacKinnon, in Tbilisi to cover the revolution, says he was struck by the new Georgian president's youth. The burdens of office already weighed heavily on the 36-year-old Saakashvili, then Europe's youngest president.
"When I asked him about the 96 percent he got in the presidential vote, he sighed. He said such a high result was 'the worst thing that can happen to a politician,' since it meant he would definitely end up disappointing some of those who voted for him," MacKinnon wrote by email.
Successes and controversy as president
Stamping out corruption, Saakashvili said, would be his top goal.
"All those officials who drove Georgia to this state will be held responsible," he pledged after taking office.
The first to fall were the former energy minister and the one-time railway department chief.
Others who profited from corruption found themselves faced with jail time or paying back huge sums to the state coffers; some Saakashvili opponents grumbled that the new government was shaking down their enemies.
But by any measure, Georgia's endemic corruption largely drained away. Later opponents would claim, however, that the successes visible with the police and border agents did not extend to the small group of high-ranking officials calling the shots in Georgia.
Saakashvili drastically realigned the country's foreign policy priorities, seeking further cooperation with the EU and leading a bid for NATO membership.
The stability, streamlined bureaucracy and growing transparency helped attract previously wary investors to the country, with an influx of foreign investment climbing steadily over the succeeding years.
The West, meanwhile, hailed Saakashvili as poster child for democracy-building efforts, with US President Georgia W Bush coming to Tbilisi in 2005 to laud the young president for creating a "beacon of democracy."
Robert Legvold, a professor of political science at Columbia University specializing in the post-Soviet space, explains this is only one side of the coin.
"On the other hand, much of this progress has been achieved at the expense of building a strong political consensus within the country based on a high tolerance of differing views," he said by email.
Eroding support and alienated voters
MacKinnon believes the rise of anti-Saakashvili sentiments in Georgia can be easily explained: while the government focuses on modernization, many are left behind.
"In a way, he's been a lot like Georgia's Margaret Thatcher—someone who makes tough decisions that make sense at a macroeconomic level, but that leave many ordinary people out in the cold," MacKinnon says.
High-profile scandals, including murder cases involving government officials and the controversial seizure of properties in a state privatization drive, did not help.
Internationally, Saakashvili seemed to purposefully antagonize Moscow, detaining four Russian officials in Tbilisi on espionage charges in September 2006.
The fiasco that followed saw the Kremlin slap a blanket trade embargo on Georgia and expel large numbers of Georgians working in Russia. The country is thought to have weathered the economic losses well, but certain segments—particularly winegrowers and families dependant on remittances from Russia—were hit hard.
All of this—poverty, disaffected demographics, a sense of alienation, fear of growing authoritarianism, Russian machinations—contributed, with the importance of each depending on whom you ask, to the massive protests against Saakashvili's rule this fall.
The protests on Rustaveli Avenue this November, despite their avowedly non-revolutionary nature, inevitably drew comparisons with the Rose Revolution. But the ending was far different: on November 7, authorities violently dispersed peaceful demonstrators, raided the country's pro-opposition television network and declared a state of emergency.
Saakashvili addressed the nation the next day, announcing a snap presidential election for January 5.
"I, as a governor of this country, need a clear mandate from you to tackle all foreign threats, all pressure on Georgia," Saakashvili stated. "I have decided to put your trust and my mandate to the test."
On November 25, Saakashvili resigned to run for reelection.
Some allies lost
Saakashvili lost several close allies during his presidency, most tragically in the sudden and suspiciously-viewed death of then-prime minister Zurab Zhvania in February 2005.
A year earlier, National Movement secretary general Koba Davitashvili resigned his position in protest of Saakashvili's "authoritarian rule."
Inner-circle member Irakli Okruashvili, meanwhile, went public this September with lurid accusations of government graft and murder plots, including an alleged order from Saakashvili to assassinate tycoon Badri Patarkatsishvili. Okruashvili offered no evidence for his claims; his arrest two days later provided the catalyst for the country's heated opposition campaign.
Campaigning for another chance
Saakashvili's campaign for reelection, in evident acknowledgement of the complaints of many of the anti-government protestors in November, is filled with promises to eradicate poverty and unemployment in Georgia.
Following Saakashvili's resignation from the presidency, the government has introduced a slew of social aid programs and one-off gifts to voters. Officials insist this has nothing do with the election.
Opposition campaigners complain Saakashvili is abusing administrative resources in his campaign.
Saakashvili is generally viewed as having a strong chance of reelection, but the election's results are anything but certain.
While Elizabeth Fuller, RFE/RL Newsline editor-in-chief for the Caucasus, labeled Saakashvili's campaign an exercise in "classic populism," Legvold, the Columbia professor, says that if Saakashvili wins the January 5 election, "The important question is whether and how well he has learned from his missteps in recent months."